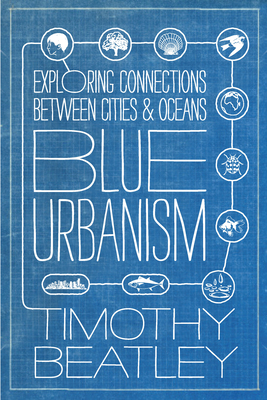 Blue Urbanism (Paperback)
Exploring Connections Between Cities and Oceans
Island Press, 9781610914055, 216pp.
Publication Date: July 8, 2014
Other Editions of This Title:
Hardcover (7/8/2014)
* Individual store prices may vary.
Description
What would it mean to live in cities designed to foster feelings of connectedness to the ocean? As coastal cities begin planning for climate change and rising sea levels, author Timothy Beatley sees opportunities for rethinking the relationship between urban development and the ocean. Modern society is more dependent upon ocean resources than people are commonly aware of—from oil and gas extraction to wind energy, to the vast amounts of fish harvested globally, to medicinal compounds derived from sea creatures, and more. In Blue Urbanism, Beatley argues that, given all we've gained from the sea, city policies, plans, and daily urban life should acknowledge and support a healthy ocean environment.

The book explores issues ranging from urban design and land use, to resource extraction and renewable energy, to educating urbanites about the wonders of marine life. Beatley looks at how emerging practices like "community supported fisheries" and aquaponics can provide a sustainable alternative to industrial fishing practices. Other chapters delve into incentives for increasing use of wind and tidal energy as renewable options to oil and gas extraction that damages ocean life, and how the shipping industry is becoming more "green." Additionally, urban citizens, he explains, have many opportunities to interact meaningfully with the ocean, from beach cleanups to helping scientists gather data.

While no one city "has it all figured out," Beatley finds evidence of a changing ethic in cities around the world: a marine biodiversity census in Singapore, decreasing support for shark-finning in Hong Kong, "water plazas" in Rotterdam, a new protected area along the rocky shore of Wellington, New Zealand, "bluebelt" planning in Staten Island, and more. Ultimately he explains we must create a culture of "ocean literacy" using a variety of approaches, from building design and art installations that draw inspiration from marine forms, to encouraging citizen volunteerism related to oceans, to city-sponsored research, and support for new laws that protect marine health.

Equal parts inspiration and practical advice for urban planners, ocean activists, and policymakers, Blue Urbanism offers a comprehensive look at the challenges and great potential for urban areas to integrate ocean health into their policy and planning goals.
About the Author
Timothy Beatley is Chair of the Department of Urban and Environmental Planning and Teresa Heinz Professor of Sustainable Communities at the University of Virginia's School of Architecture. He is the author of many books, including 
Biophilic Cities
, 
Resilient Cities
, and
 Green Urbanism
.
Praise For Blue Urbanism: Exploring Connections Between Cities and Oceans…
"... Beatley expands his purview beyond the 'green urbanism' of Biophilic Cities to the vast oceans that make up 70 percent of the face of the Earth. While he still argues that cities must integrate green—really ecological design principles at all levels—into dense urban environments, he cautions that cities can't ignore oceans and marine environments."
— ASLA's The Dirt
"Timothy Beatley... makes an explicit connection between oceans and cities. He looks at projects that study marine biodiversity near cities and talks about ways to make ports and shipping more ocean friendly using wind and solar power. He encourages urban design to consider ocean health, working toward 'bluer' cities."
— Landscape Architecture Magazine
"
Blue Urbanism
is suitable for all who are interested in and concerned about our Blue Planet, and a clarion call for effective engagement with shaping our future. Tim Beatley again offers us a promising vision of different and positive ways to address complex and neglected issues. Connecting the cities where most of us increasingly live with the watersheds and oceansheds that support humans and all that they cherish is vitally important."
— Margaret A. Davidson
"
Blue Urbanism
is an inspiring book for citizens and policymakers alike, full of challenge and ideas. Connecting our cities' populations with the ocean, physically, intellectually and emotionally, is an urgent task for the twenty-first century. Tim Beatley brings examples of biodiversity, engineering, beauty and recreation together from around the world. City leadership must include the marine realm if humans are to be a healthy species on this Blue Planet."
— Celia Wade-Brown
"Tim Beatley provides a cogent argument for intertwining urban and natural worlds, especially for us on the continent's edge. As we add density, Beatley expertly argues that true sustainability must extend to the blue world that defines our globe and shapes our cities."
— John Rahaim
"...a perspective that could certainly expand into city planning."
— City Lab
"heartening, a nice dose of optimism in a field (conservation biology) that often focuses on the negative. ... Overall, this is a fun, engaging book. Anyone interested or passionate about urban sustainability or about the health of the oceans should check it out."
— The Nature Conservancy's Science Chronicles
"He spends chapters linking urban lifestyles— fish consumption, design, land use — to their oceanic consequences… He collected a myriad of upbeat examples of cities where blue urbanism has shown itself."
— Planning
"Beatley gives us a new perspective in viewing water masses (rivers, lakes, seas and oceans) as an extension of our cities and, in the end, an extension of ourselves."
— The Nature of Cities
"Beatley's exploration goes well beyond regulatory tools, eventually developing a completely new vision for how we interact with urban marine environments."
— Urban Marine Ecology
or
Not Currently Available for Direct Purchase