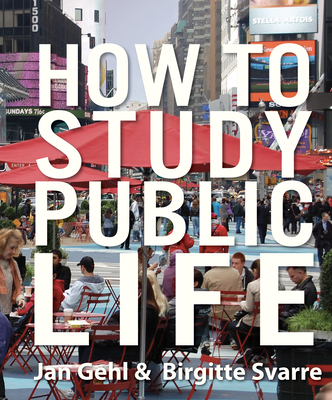 How to Study Public Life (Hardcover)
Island Press, 9781610914239, 200pp.
Publication Date: October 15, 2013
* Individual store prices may vary.
Description
How do we accommodate a growing urban population in a way that is sustainable, equitable, and inviting? This question is becoming increasingly urgent to answer as we face diminishing fossil-fuel resources and the effects of a changing climate while global cities continue to compete to be the most vibrant centers of culture, knowledge, and finance.

Jan Gehl has been examining this question since the 1960s, when few urban designers or planners were thinking about designing cities for people. But given the unpredictable, complex and ephemeral nature of life in cities, how can we best design public infrastructure—vital to cities for getting from place to place, or staying in place—for human use? Studying city life and understanding the factors that encourage or discourage use is the key to designing inviting public space.

In How to Study Public Life Jan Gehl and Birgitte Svarre draw from their combined experience of over 50 years to provide a history of public-life study as well as methods and tools necessary to recapture city life as an important planning dimension.

This type of systematic study began in earnest in the 1960s, when several researchers and journalists on different continents criticized urban planning for having forgotten life in the city. City life studies provide knowledge about human behavior in the built environment in an attempt to put it on an equal footing with knowledge about urban elements such as buildings and transport systems. Studies can be used as input in the decision-making process,  as part of overall planning, or in designing individual projects such as streets, squares or parks. The original goal is still the goal today: to recapture city life as an important planning dimension. Anyone interested in improving city life will find inspiration, tools, and examples in this invaluable guide.
About the Author
Jan Gehl is a founding partner of Gehl Architects—Urban Quality Consultants. He is the author of Life Between Buildings and Cities for People. He has received numerous awards for his work and is widely credited with creating and renewing urban spaces in cities around the world, including Copenhagen, Melbourne, New York City, London, and many others.

Birgitte Bundesen Svarre holds an MA in modern culture from the University of Copenhagen and a PhD from the School of Architecture in Copenhagen. She is part of Gehl Institute, the division at Gehl Architects that works with research and communication of knowledge at workshops for city planners, politicians and others with interest in life in the cities – as well as suburbs, a topic she has specialized within. She is a guest lecturer at various universities.
Praise For How to Study Public Life…
"fills a gap in the literature...Gehl is an unassuming but essential guide to this criminally underutilized method of analysis."
— Planetizen's Top 10 Books of 2014
"...it serves also as a knowledge map for those interested in understanding the roots of the renaissance of public spaces as a field of attention in urban planning, looking back at authors that influenced the works not only of Jan Gehl, but also of all those addressing a new understanding of the importance of public life in our cities nowadays."
— Ciudades a Escala Humana
"In sharing how public life-public space interactions can be systematically approached and taught, I don't hesitate to say that How to Study Public Life is must-read for anybody and everybody entrenched in urban development, design and planning—from students and practitioners to municipal officials and policy makers."
— Spacing
"For decades, the public space, public life studies developed by Jan Gehl and his team have been a great inspiration for professionals, academics and city planners in all parts of the world. Now their secret tools are available to everyone in
How to Study Public Life
. It is just a matter now of getting out there and putting them to use."
— Peter Newman, Professor of Sustainability, Curtin University, Australia
"This important book is published at a time when the dynamics of urbanization dictate a better integration of urban activities, which Gehl has long shown how to achieve."
— Peter Bosselmann, Professor of Urban Design, University of California, Berkeley
"Applying the principles of public life studies at the City of Melbourne has proven to be an invaluable tool for making our city more livable.
How to Study Public Life
is an essential tool-oriented book for all those striving to create better cities for people."
— Rob Adams, Director of City Design, City of Melbourne
"Gehl and Svarre's
How to Study Public Life
is a refreshing manual for how to engage design professionals and the general public to observe, analyze, and assess the nature of their city."
— Oculus
"Thanks to Gehl and Svarre, urban designers have a helpful reference for getting started with the process of getting outside into public spaces to look and learn"
— A Daily Dose of Architecture
"Danish architect Jan Gehl and coauthor Birgitte Svarre provide a nicely illustrated overview of the the field they call 'public-life studies' in
How to Study Public Life
."
— Planning
"This is an excellent primer on how to 'recapture public life' as an important dimension in the design of vibrant, pedestrian-friendly city spaces. Gehl and Svarre... offer fine-grained guidance on the range of behaviors to observe, tools to employ for observing and documenting, and the types of life-enhancing design solutions generated from interpretation of collected data... This is an important book for architecture and design programs at all levels."

— Choice