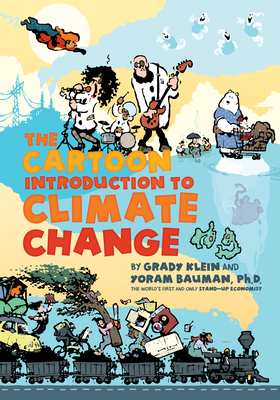 The Cartoon Introduction to Climate Change (Paperback)
Island Press, 9781610914383, 205pp.
Publication Date: June 5, 2014
Description
Climate change is no laughing matter-but maybe it should be. The topic is so critical that everyone, from students to policy-makers to voters, needs a quick and easy guide to the basics. The Cartoon Introduction to Climate Change entertains as it educates, delivering a unique and enjoyable presentation of mind-blowing facts and critical concepts.
"Stand-up economist" Yoram Bauman and award-winning illustrator Grady Klein have created the funniest overview of climate science, predictions, and policy that you'll ever read. You'll giggle, but you'll also learn-about everything from Milankovitch cycles to carbon taxes. If those subjects sound daunting, consider that Bauman and Klein have already written two enormously successful cartoon guides to economics, making this notoriously dismal science accessible to countless readers. Bauman has a PhD in economics and has taught at both the high school and college level, but he now makes a living performing at comedy clubs, universities, and conferences, sharing the stage with personalities as diverse as Robin Williams and Paul Krugman. The authors know how to get a laugh-and they know their facts. This cartoon introduction is based on the latest report from the authoritative Intergovernmental Panel on Climate Change (IPCC) and integrates Bauman's expertise on economics and policy. If economics can be funny, then climate science can be a riot. Sociologists have argued that we don't address global warming because it's too big and frightening to get our heads around. The Cartoon Introduction to Climate Change takes the intimidation and gloom out of one of the most complex and hotly debated challenges of our time. References available at http: //standupeconomist.com/cartoon-climate/
About the Author
Yoram Bauman, "the world's first and only stand-up economist," performs regularly at colleges and corporate events, sharing the stage with everyone from Robin Williams to Paul Krugman. He has appeared in Time magazine and on PBS and NPR, and his previous collaboration with Grady Klein resulted in the two-volume Cartoon Introduction to Economics. He is a carbon tax fellow at Sightline Institute and has taught economics and environmental studies classes at the University of Washington (where he received his PhD in economics) and at Lakeside High School. Grady Klein is a cartoonist, animator, and graphic designer. He is the coauthor, with Yoram Bauman, of the two-volume Cartoon Introduction to Economics; the coauthor, with Alan Dabney, of The Cartoon Introduction to Statistics; and the creator of The Lost Colony series of graphic novels.
Advertisement