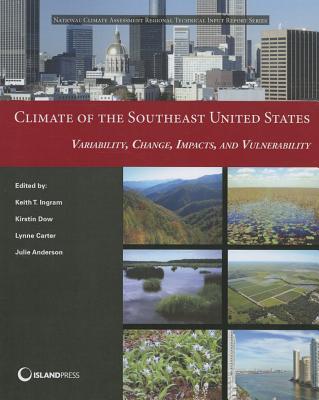 Climate of the Southeast United States (Paperback)
Variability, Change, Impacts, and Vulnerability (NCA Regional Input Reports)
NCA Regional Input Reports, 9781610914390, 342pp.
Publication Date: November 12, 2013
* Individual store prices may vary.
Description
Prepared for the 2013 National Climate Assessment and a landmark study in terms of its breadth and depth of coverage, Climate of the Southeast United States is the result of a collaboration among three Regional Integrated Sciences and Assessments Centers: the Southeast Climate Consortium; the Carolinas Regional Sciences and Assessments; and the Southern Climate Impacts Planning Program; with contributions from numerous local, state, federal, and nongovernmental agencies to develop a comprehensive, state of the art look at the effects of climate change in the region. 
The book summarizes the scientific literature with respect to climate impacts on the Southeast United States, including 11 southern states to the east of the Mississippi River, Puerto Rico, and the US Virgin Islands; reviews the historic climate, current climate, and the projected future climate of the region; and describes interactions with important sectors of the Southeast and cross-sectoral issues, namely climate change mitigation, adaptation, and education and outreach.
Rich in science and case studies, it examines the latest climate change impacts, scenarios, vulnerabilities, and adaptive capacity and offers decision makers and stakeholders a substantial basis from which to make informed choices that will affect the well-being of the region's inhabitants in the decades to come.
About the Author
Lynne Carter is Associate Director and Program Manager, Southern Climate Impacts Planning Program (SCIPP)--a stakeholder-driven program focusing on serving the adaptation and climate information needs of the south-central US and Associate Director for the Coastal Sustainability Studio also at LSU, an effort to bring together designers (architects and landscape architects) with engineers and coastal scientists to rethink what might work along the coast. Dr. Carter is also the Director of the Adaptation Network, a non-profit, established  to assist US communities to build resilience and reduce vulnerabilities to the unavoidable impacts of climate change. She has worked on a wide range of climate change issues since 1988, has organized conferences and workshops on various aspects of climate change, including around natural resource adaptations for the New England Governors/Eastern Canadian Premiers. She was the Regional Liaison to the 19 regions for the first U.S. National Assessment; has developed and taught semester long and short courses (including at the Environmental Change program at Oxford); delivered more than 60 public presentations on climate change; ahd written and contributed to articles and reports on climate change for a variety of audiences, including all three US National Climate Assessments - 2000, 2009, 2013 (in prep). Lynne is an appointed member of: the Federal Advisory Committee for the 2013 US National Climate Assessment and a convening lead author for the SE and a lead author for the Adaptation chapter; ICLEI's Climate Adaptation Experts Advisory Committee; and the American College & University Presidents' Climate Commitment Adaptation Committee. Her educational background includes science (BS, MS), science policy (MMA), and science education (Ph.D).

or
Not Currently Available for Direct Purchase