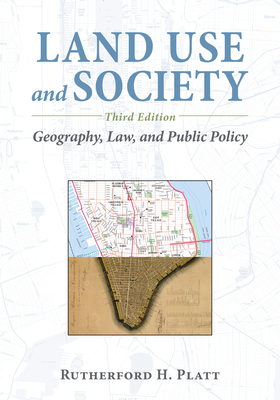 Land Use and Society, Third Edition (Hardcover)
Geography, Law, and Public Policy
Island Press, 9781610914536, 320pp.
Publication Date: July 8, 2014
Other Editions of This Title:
Paperback (7/8/2014)
* Individual store prices may vary.
Description
The intersection between geography and law is a critical yet often overlooked element of land-use decisions, with a widespread impact on how societies use the land, water, and biodiversity around them. Land Use and Society, Third Edition is a clear and compelling guide to the role of law in shaping patterns of land use and environmental management. Originally published in 1996 and revised in 2004, this third edition has been updated with data from the 2010 U.S. Census and revised with the input of academics and professors to address the changing issues in land use, policy, and law today.
Land Use and Society, Third Edition retains the historical approach of the original text while providing a more concise and topical survey of the evolution of urban land use regulation, from Europe in the Middle Ages through the present day United States. Rutherford Platt examines the "nuts and bolts" of land use decision-making in the present day and analyzes key players, including private landowners, local and national governments, and the courts. This third edition is enhanced by a discussion of the current trends and issues in land use, from urban renewal and demographic shifts in cities to the growing influence of local governance in land use management.
Land Use and Society, Third Edition is a vital resource for any student seeking to understand the intersection between law, politics, and the natural world. While Platt examines specific rules, doctrines, and practices from an American context, an understanding of the role of law in shaping land use decisions will prove vital for students, policymakers, and land use managers around the world.
About the Author
Rutherford H. Platt is Professor Emeritus of Geography at the University of Massachusetts Amherst and a Lifetime National Associate of The National Academies. He is the author of Disasters and Democracy: The Politics of Extreme Natural Events and Reclaiming American Cities: The Struggle for People, Place, and Nature Since 1900, among many other publications. Platt has served on various panels of the National Academy of Sciences/National Research Council and has consulted with diverse federal agencies and nongovernmental organizations.

Praise For Land Use and Society, Third Edition: Geography, Law, and Public Policy…
"Platt's optimism remains undimmed in this edition."
— Planning
"
Land Use and Society
has long been a valuable resource as well as a teaching tool. The new edition provides a compelling and well-illustrated update to the interplay of public activity in critical areas of social and land use conflict and change."
— R.L. Morrill, Professor Emeritus of Geography, University of Washington
"With seemingly inexorable population growth and the threat of global climate change, the linkage of law and geography is stronger and more critical than ever. In this remarkable third edition of
Land Use and Society
, Rutherford Platt helps us understand more fully the role of law in determining resource use and settlement patterns. He sees hope in attaining sustainability and social justice from the bottom up with expanded local initiatives."
— Dwight Merriam, FAICP, Robinson & Cole, LLP Attorneys at Law
"The third edition of
Land Use and Society
will become an indispensable tool for land-use scholars, students, and professionals. The inclusion of many new topics illustrates the remarkable breadth and depth of Rutherford Platt's knowledge. I would recommend the book not just to my colleagues but to anyone I know."
— Sonia Hirt, Associate Dean of Academic Affairs, College of Architecture and Urban Studies, Virginia Tech
"This volume, now in a third edition, develops an excellent introduction and overview of how the regulation of geography, land, and ownership rights has a profound impact on many aspects of life."

— Choice
or
Not Currently Available for Direct Purchase