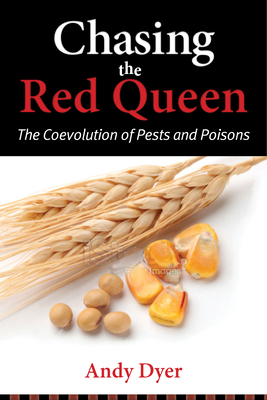 Chasing the Red Queen (Hardcover)
The Evolutionary Race Between Agricultural Pests and Poisons
Island Press, 9781610915182, 240pp.
Publication Date: December 18, 2014
* Individual store prices may vary.
Description
In the race to feed the world's seven billion people, we are at a standstill. Over the past century, we have developed increasingly potent and sophisticated pesticides, yet in 2014, the average percentage of U.S. crops lost to agricultural pests was no less than in 1944. To use a metaphor the field of evolutionary biology borrowed from Alice in Wonderland, farmers must run ever faster to stay in the same place—i.e., produce the same yields.

With Chasing the Red Queen, Andy Dyer offers the first book to apply the Red Queen Hypothesis to agriculture. He illustrates that when selection pressure increases, species evolve in response, creating a never-ending, perpetually-escalating competition between predator (us) and prey (bugs and weeds). The result is farmers are caught in a vicious cycle of chemical dependence, stuck using increasingly dangerous and expensive toxics to beat back progressively resistant pests.

To break the cycle, we must learn the science behind it. Dyer examines one of the world's most pressing problems as a biological case study. He presents key concepts, from Darwin's principles of natural selection to genetic variation and adaptive phenotypes. Understanding the fundamentals of ecology and biology is the first step to "playing the Red Queen," and escaping her unwinnable race. The book's novel frame will help students, researchers, and policy-makers alike apply that knowledge to the critical task of achieving food security.
About the Author
Andy Dyer is Professor of Biology at the University of South Carolina, Aiken. He is the author or coauthor of thirty journal articles and book chapters in plant ecology. Dr. Dyer's research interests are in population and community ecology, invasive species ecology, and habitat restoration. His current research focuses on population biology of invasive grasses, including competitive ability and germination traits.

Praise For Chasing the Red Queen: The Evolutionary Race Between Agricultural Pests and Poisons…
"An unsuspecting advocate of the agricultural status quo who attempts this book may find herself seduced by the calm clarity with which the author makes his arguments. ...the elegance of Dyer's rhetorical scaffolding ...a voice of reason."
"insightful...A well-written and timely analysis of an increasingly dire agricultural dilemma."
"Dyer endeavors to scientifically inspire a paradigm shift in the practice of production agriculture."
"A very thoughtful and well-written book...a good read and a great synthesis of ecology, evolutionary theory, and sustainable agriculture." 
"Illustrates the unwise, nature alien use of chemicals…however, the book offers more than an alarming cry…its message appeals to anyone concerned with the long-term viability of the post-modern food production system."
"Its message appeals to anyone concerned with the long-term viability of the post-modern food production system."
or
Not Currently Available for Direct Purchase