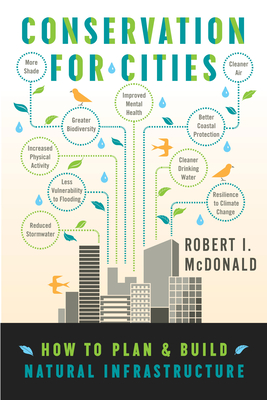 Conservation for Cities (Hardcover)
How to Plan & Build Natural Infrastructure
Island Press, 9781610915212, 280pp.
Publication Date: August 13, 2015
* Individual store prices may vary.
Description
It's time to think differently about cities and nature. Understanding how to better connect our cities with the benefits nature provides will be increasingly important as people migrate to cities and flourish in them. All this urban growth, along with challenges of adapting to climate change, will require a new approach to infrastructure if we're going to be successful. Yet guidance on how to plan and implement projects to protect or restore natural infrastructure is often hard to come by.

With Conservation for Cities, Robert McDonald offers a comprehensive framework for maintaining and strengthening the supporting bonds between cities and nature through innovative infrastructure projects. After presenting a broad approach to incorporating natural infrastructure priorities into urban planning, he focuses each following chapter on a specific ecosystem service. He describes a wide variety of benefits, and helps practitioners answer fundamental questions: What are the best ecosystem services to enhance in a particular city or neighborhood? How might planners best combine green and grey infrastructure to solve problems facing a city? What are the regulatory and policy tools that can help fund and implement projects? Finally, McDonald explains how to develop a cost-effective mix of grey and green infrastructure and offers targeted advice on quantifying the benefits.

Written by one of The Nature Conservancy's lead scientists on cities and natural infrastructure, Conservation for Cities is a book that ecologists, planners, and landscape architects will turn to again and again as they plan and implement a wide variety of projects.
About the Author
Dr. Robert McDonald is Senior Scientist for Sustainable Land Use at The Nature Conservancy, where he is lead scientist for the organization's efforts to figure out how to make cities more sustainable. He holds a PhD in Ecology from Duke University and has published more than 30 peer-reviewed publications, many of them on the science of how cities impact and depend on the environment. He blogs for The Nature Conservancy's Cool Green Science blog and has published two recent essays on urban/environment interactions in a collection called Taking Sides: Clashing Views in Global Issues (McGraw-Hill) and in The Chronicle of Higher Education.

Praise For Conservation for Cities: How to Plan & Build Natural Infrastructure…
"Thorough, logical, and conversational book for those seeking to make fast-growing cities work for nature, and vice versa."
— Planning
"[Conservation for Cities] provides exponentially more value [for] anyone interested in the benefits of integrating natural infrastructure into our cities…offers a compelling trail head to these [nature's] pathways of the future."
— ASLA's The Dirt
"A thorough, well-researched, and important compilation of relevant topics and case studies that delivers a valuable contribution for building an understanding about ecosystem services and natural infrastructure management into urban design and planning...[McDonald] has provided a resource and building block for all those interested and engaged in urban ecosystem services research." 
— Landscape Ecology
"Plainspoken, relentlessly practical, and appearing at a time when interest in the notion of urban livability is cresting, Conservation for Cities is a welcome new resource."
— Civil Engineering
"McDonald replaces the old view of conservation that emphasizes 'how to protect nature from cities' with a new view of 'how to protect nature for cities.' The book demonstrates how recent developments in green infrastructure creation, ecosystem service valuation, and environmental modeling can be incorporated into environmental planning efforts. Practitioners and students of environmental planning will want to keep this clear and insightful volume close at hand."
— Philip R. Berke, Department of Landscape Architecture and Urban Planning, Texas A&M University
"Conservation for Cities is an excellent primer on both large scale and site scale green infrastructure. This truly enjoyable and well-paced survey spans from broad planning approaches to descriptions of specific ecosystem services. A focus on technical details, rather than specific regulatory, political, or environmental conditions, makes the book a universally relevant resource, and a good complement to more place-specific analyses."
— Mami Hara, Deputy Commissioner and Chief of Staff, Philadelphia Water
"Cities are the future of mankind, and Conservation in Cities is the ideal guide to making them work."
— David Owen, author of "Green Metropolis"
"In this modest and succinct primer, he explains with an engaging informality ways to deal with many of the standard environmental shortcomings affecting U.S. cities, whether caused by the forces of nature or by human misuse. He also inserts anecdotes from his personal experience, but mostly this book describes a rational and realistic planning, problem-solving, inventory, implementation, and monitoring process that could apply to a range of interventions from modest to bold."
— Urban Land
or
Not Currently Available for Direct Purchase