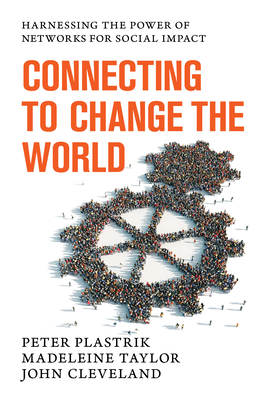 Connecting to Change the World (Hardcover)
Harnessing the Power of Networks for Social Impact
Island Press, 9781610915328, 256pp.
Publication Date: September 29, 2014
* Individual store prices may vary.
Description
Something new and important is afoot. Nonprofit and philanthropic organizations are under increasing pressure to do more and to do better to increase and improve productivity with fewer resources. Social entrepreneurs, community-minded leaders, nonprofit organizations, and philanthropists now recognize that to achieve greater impact they must adopt a network-centric approach to solving difficult problems. Building networks of like-minded organizations and people offers them a way to weave together and create strong alliances that get better leverage, performance, and results than any single organization is able to do.

While the advantages of such networks are clear, there are few resources that offer easily understandable, field-tested information on how to form and manage social-impact networks. Drawn from the authors' deep experience with more than thirty successful network projects, Connecting to Change the World provides the frameworks, practical advice, case studies, and expert knowledge needed to build better performing networks. Readers will gain greater confidence and ability to anticipate challenges and opportunities.

Easily understandable and full of actionable advice, Connecting to Change the World is an informative guide to creating collaborative solutions to tackle the most difficult challenges society faces.
About the Author
Peter Plastrik is cofounder and Vice-President, Innovation Network for Communities (INC), a nonprofit national network of community system innovators. A prolific author, Peter wrote Banishing Bureaucracy: The Five Strategies for Reinventing Government and The Reinventor's Fieldbook: Tools for Transforming Your Government with coauthor David Osborne. Madeleine Beaubien Taylor, Ph.D., has conducted policy and evaluation research for the public and nonprofit sectors since 1987. She has consulted to governments, universities, and foundations as well as to community-based nonprofits, on issues that include culture and the environment, community economic development and nonprofit network-building. John Cleveland is President and a founder of the Innovation Network for Communities (INC).

Praise For Connecting to Change the World: Harnessing the Power of Networks for Social Impact…
"The case for how networks can be uniquely leveraged to work in hyper-complex situations—offering a nimble and expansive approach—helps readers see how taking the leap into a network way of working can yield big impacts."
— FAC Network
"The hard truth is, every organization is facing complex social problems that they can't solve on their own. The good news is, every organization can build networks that will help them create solutions together. Connecting to Change the World is the must-read manual that will teach you how to put this strategy to work if you really want to make a difference."
— Alan Webber, cofounder, Fast Company and author of "Life Reimagined" and "Rules of Thumb"
"We are living in a world where social change is about working networks, not about building organizations, especially if you need to work with Millennials. This book is a must read for anyone working in the nonprofit sector and wants to achieve more impact.  The authors have done an amazing job overviewing the trends and offering valuable practical insights about how to build networks for social change—from design and connection to results."
— Beth Kanter, coauthor, "The Networked Nonprofit" and "Measuring the Networked Nonprofit"
"Millennials' generational mission is to work together to change the world for the better. Connecting to Change the World is destined to become their guidebook for how to build the generative social  networks they will use to accomplish their goal.  Everyone interested in making global change happen at the local level will benefit from following the sage advice built on practical experience that permeates the pages of this book."
— Morley Winograd, coauthor, "Millennial Momentum: How a New Generation is Remaking America"
"As government leaders steer more and row less, networks become an indispensable tool to solve complex problems and achieve critical public goals.  This insightful book will tell you everything you need to know to create and use networks effectively. Beautifully written, with case studies woven throughout, it is as entertaining as it is useful. I wish I had read it 25 years ago!"
— David Osborne, coauthor, "Reinventing Government" and "Banishing Bureaucracy"
"We all know that networks are key to the next generation of civic organizing, but what is the key to networks?  Connecting to Change the World is chock full of advice and hard-won lessons from the frontiers of today's net-centric innovations.  This is required reading for social change makers to understand that there is an art, a science, and a discipline essential to design, develop, maintain, sustain and grow powerful networks."
— Sterling Speirn, Managing Director, Poverty Interrupted and Former President & CEO of the W.K. Kellogg Foundation
"I funded networks for over ten years, and to see the wisdom of the field synthesized this concisely, and made this accessible, is extraordinary. The depth and breadth of the authors' practical knowledge is nothing short of captivating and brilliant."
— Pat Brandes, Former Executive Director, Barr Foundation
"Though we know, deep in our bones, that we're better together than alone, most of us don't know how to activate or even initiate strong, effective networks. Plastrik, Taylor, and Cleveland have spent the better part of their careers studying and trying to remedy this problem, and to great effect."
— William Shutkin, President and CEO, Presidio Graduate School
"...may well be the best guide for practitioner[s] to date...comprehensive...[Connecting to Change the World] is a significant contribution to the field of social change."
— Engage!
"Whether you're a social entrepreneur, a nonprofit executive, a funder, or a grassroots activist, you'll find strategies, tools, and cases that you can use to power your vision as well as your everyday work. Connecting to Change the World is essential reading for anyone who's passionate about using networks to advance social change."
— Kathy Reich, Director of Organizational Effectiveness Grantmaking, David and Lucile Packard Foundation
"Connecting to Change the World provides social entrepreneurs with a powerful new tool for organizing change--the creation of generative networks that empower and unleash the complementary energies of large numbers of independent and interdependent actors. Incorporating lessons from dozens of networks in a host of fields, many of which they had a hand in improving, the authors advance the understanding and practice of an important emerging tool for social change, providing specific steps to success and important insights. I highly recommend this book to anyone serious about unleashing social change."
— Bob Friedman, Founder and Chair, Corporation for Enterprise Development (CFED), board member, Family Independence
"Inspiring, practical advice for the most powerful pathway for social impact—the authors bring decades of deep experience in the most dynamic organizing model for creating change. This is a guidebook for 21st Century social transformation."
— Graham Richard, CEO, Advanced Energy Economy
"Is there a 21st century blueprint for sustainable social change? If, like me, you've been working in the trenches to grow a new world only to be stumped by the very real barriers of weak tools—foolhardy business models, unimaginative value propositions, and the 20th century hangover of scale—then this is the book for you. Connecting to Change the World sheds light on why some organizations today feel like heavy bricks, whereas others defy gravity. Read on to discover how to situate yourself to grow social change that lives on longer than we do and goes to places we hadn't imagined."
— Richard McCarthy, Executive Director for Slow Food USA
"The authors of Connecting to Change the World have rightly concluded that pooling talent and resources to address complex social and environmental problems is the only way to go. Their highly readable new book explains the art of creating collaborative solutions. Architecture 2030 is pleased to have worked with the authors when forming a national network of city-based 2030 Districts—local networks focused on carbon emissions, energy, and water reductions. We enthusiastically endorse their approach, and recommend their new book to individuals and groups committed to solving problems and ensuring a positive impact."
— Ed Mazria, Founder and CEO, Architecture 2030
"An important contribution to the growing literature on networks, Connecting to Change the World offers startlingly useful guidance to those who need to navigate a changing new world increasingly represented by links and nodes. Free of the hyperbole and conjecture that sometimes accompany claims on the potential of networks, the authors rely on their research and experience to pinpoint the benefits and limitations of networks. As a person who works with policymakers and is actively engaged in philanthropy, this will become a well-worn reference book."
— Anita R. Brown-Graham, Director, Institute for Emerging Issues, NC State University