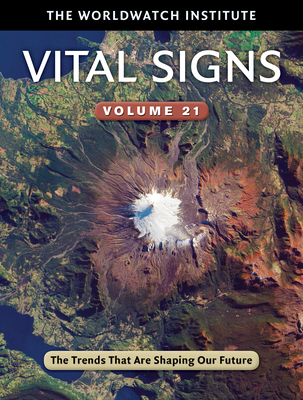 Vital Signs Volume 21
The Trends That Are Shaping Our Future
Paperback

* Individual store prices may vary.
Description
Vital Signs Volume 21 is all about growth. From natural disasters to cars to organic farming, the two dozen trends examined here indicate both increasing pressure on natural resources and scaled up efforts to live more sustainably. In 2012, world auto production set yet another record with passenger-car production rising to 66.7 million. That same year, the number of natural disasters climbed to 905, roughly one hundred more than the 10-year annual average, and 90 percent were weather related. Alongside these mounting pressures come investments in renewable energy and sustainable agriculture. The number of acres of land farmed organically has tripled since 1999, though it still makes up less than 1% of total farmland. Not all the statistics are going up. Key measures of development aid have fallen, as have global commodity prices. Yet the overall trend is expansion, both for the good and ill of the planet. Vital Signs provides the latest data available, but its value goes beyond simple numbers. Through insightful analysis of global trends, it offers a starting point for those seeking solutions to the future's intensifying challenges.
Island Press, 9781610915397, 152pp.
Publication Date: September 16, 2014
About the Author
Through research and outreach that inspire action, the Worldwatch Institute works to accelerate the transition to a sustainable world that meets human needs. The Institute's top mission objectives are universal access to renewable energy and nutritious food, expansion of environmentally sound jobs and development, transformation of cultures from consumerism to sustainability, and an early end to population growth through healthy and intentional childbearing.

Founded in 1974 by farmer and economist Lester Brown, Worldwatch was the first independent research institute devoted to the analysis of global environmental concerns. Worldwatch quickly became recognized by opinion leaders around the world for its accessible, fact-based analysis of critical global issues. Today, Worldwatch develops innovative solutions to intractable problems, emphasizing a blend of government leadership, private sector enterprise, and citizen action that can make a sustainable future a reality.
or
Not Currently Available for Direct Purchase