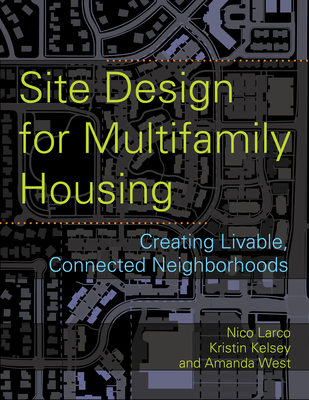 Site Design for Multifamily Housing (Hardcover)
Creating Livable, Connected Neighborhoods
Island Press, 9781610915465, 168pp.
Publication Date: April 17, 2014
* Individual store prices may vary.
Description
The United States is over eighty percent urbanized, yet over half of the population still lives in suburban settings, characterized by low-density, automobile-dependent development with separated land uses. These disconnected and isolated models of development have been linked to increased greenhouse-gas emissions and reduced quality of life, health, and social connections. In Site Design for Multifamily Housing: Creating Livable, Connected Neighborhoods, the authors explain that creating more livable and vital communities is within reach and the design and development of multifamily housing is a key component to reaching this goal.

Multifamily housing is an important component of increasing density, but large lot multifamily developments often lack connectivity and hence limit livability and walkability. Multifamily housing in suburban areas presents greater challenges than in urban areas due in part to larger lot sizes and street patterns that are often a mix of cul-de-sac, curved, looped, and dead-end streets. Increasing the livability of these developments is an important first step in affecting the livability of the country as a whole.

This handbook introduces planners, developers, and designers to ten key elements of multifamily site design, comparing typical and recommended conditions. Case studies of successful large lot multifamily developments as well as retrofit proposals for existing developments with low internal and external connectivity will demonstrate how the tools in the book can be applied.  Examples are drawn from Oregon, California, North Carolina, and Arizona. The ideas and tools in this book, including the planning checklist, code guide, and code summaries, will help users to create more livable, vibrant, and healthy communities. 
About the Author
Nico Larco, AIA is Associate Professor in the Department of Architecture and Affiliated Faculty in Planning, Public Policy, and Management at the University of Oregon. He is also Co-Founder and Co-Director of the Sustainable Cities Initiative. Larco holds a Bachelor in Architecture and Bachelor of Arts in Cognitive Psychology from Cornell University and a Master of Architecture and a Master of City and Regional Planning from the University of California, Berkeley. His research work has been focused on livability and multifamily housing and he has published on this topic in the Journal of International Planning Studies, Journal of Urbanism, and Journal of Urban Design. Larco is a 2012/2013 Fulbright Scholar and was OTREC's National University Transportation Center's Researcher of the Year.
Kristin Kelsey recently graduated from the University of Oregon's Department of Architecture with a Dual Masters in Architecture and Interior Architecture. She is currently practicing in Seattle, Washington.
Amanda West is a graduate of the University of Oregon's Department of Planning, Public Policy, and Management and has been a Project Manager at the Community Planning Workshop at the University of Oregon.

Praise For Site Design for Multifamily Housing: Creating Livable, Connected Neighborhoods…
"[A] straightforward guide that offers design criteria for pedestrian networks, street design, open space, landscape design, and more..."
"Site Design for Multifamily Housing offers designers, developers and planners clear and cogent site design advice for improving connectivity, walkability and livability—features that are crucial to the design of better, more resilient suburban futures—all in an easily-referenced handbook format."
— June Williamson, Associate Professor of Architecture at The City College of New York
"This book-- direct, concise, practical-- fits nicely into what may be a developing genre of guides to achieving greater sustainability without megaprojects and without immediate radical change in everyone's mind-set."
"This invaluable 'how-to' guidebook demonstrates easily understandable interventions that can be championed by the array of participants in city building.
Site Design for Multifamily Housing
is a distinguished and timely resource that will clearly motivate the transformation of North American suburban contexts to be more connected, livable, and enjoyable."
— Scot Hein, Senior Urban Designer, City of Vancouver
"Site Design for Multifamily Housing is a much-needed urban planning resource that will encourage infills, retrofits, and the improvement of existing suburban sites through the introduction of design and coding techniques for better connectivity and better urbanism that are attractive to the emerging markets."

— Galina Tachieva, partner and Director of Town Planning at Duany Plater-Zyberk & Company
or
Not Currently Available for Direct Purchase