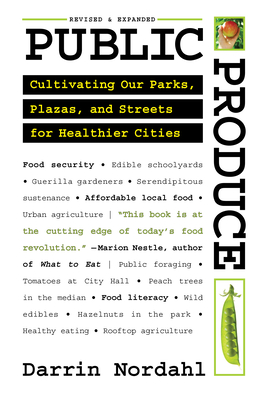 Public Produce
Cultivating Our Parks, Plazas, and Streets for Healthier Cities
Paperback

* Individual store prices may vary.
Other Editions of This Title:
Paperback (9/23/2009)
Description
Plum and pear trees shade park benches in Kamloops, British Columbia. Tomatoes and cucumbers burst forth from planters at City Hall in Provo, Utah. Strawberries and carrots flourish along the sunny sidewalks of a Los Angeles neighborhood. 
The idea that public land could be used creatively to grow fresh food for local citizens was beginning to gain traction when Public Produce was first published in 2009, but there were few concrete examples of action. Today, things are different: fruits and vegetables are thriving in parks, plazas, along our streets, and around our civic buildings.
This revised edition of Public Produce profiles the many communities and community officials that are rethinking the role of public space in cities, and shows how places as diverse as parking lots and playgrounds can sustain health and happiness through fresh produce. But these efforts produce more than food. Revitalizing urban areas, connecting residents with their neighborhoods, and promoting healthier lifestyles are just a few of the community goods we harvest from growing fruits and vegetables in our public gathering spots.
Taking readers from inspiration to implementation, Public Produce is chock full of tantalizing images and hearty lessons for bringing agriculture back into our cities.
Praise For Public Produce: Cultivating Our Parks, Plazas, and Streets for Healthier Cities…
"Backed up by research and statistics, Public Produce is a sobering look at our current situation and a rallying cry for getting involved and making a change. For me, Nordahl gives solid reasons for the why and how to get involved today."
— San Francisco Book Review

"Public Produce is valuable for its detailed examples of urban agriculture that go beyond the familiar community garden, backyard garden, and urban farm, and provides numerous ideas for municipalities ready to take a more active approach to urban agriculture."
— Nature of Cities

"Nordahl effectively illustrates the role of public produce in the improvement of food security and makes it difficult to disagree with his assessment that the impact can be positively significant....This book will be very useful to public officials, planners, community activists, and residents interested in food security and urban agriculture." 
— Journal of Planning Education and Research

"This vital book shows how growing food on public land can transform our civic landscape, sprouting the seeds of biodiversity, sustainability, and community."
— Alice Walters, Chez Panisse

"Nordahl is a visionary who shows how easily cities could promote urban agriculture to the great benefit of all concerned. This book is at the cutting edge of today's food revolution. Read it and get your city council to sign up!"
— Marion Nestle, Professor of nutrition, food studies, and public health at NYU, author of "What to Eat"

"As part of a small but growing group of local food advocates that includes Gary Paul Nabhan, Michael Pollan, and Alice Waters, Nordahl has produced a work that approaches the subject from the creative new angle of producing food in very public places."
— Landscape Architecture Magazine
Island Press, 9781610915496, 224pp.
Publication Date: September 29, 2014
About the Author
Darrin Nordahl is an award-winning writer on issues of food and city design. He completed his bachelor's degree in landscape architecture at the University of California at Davis and his master's degree in urban design at Cal-Berkeley. He is the author of Making Transit Fun!, My Kind of Transit and Public Produce.Born in Oakland, California, Darrin grew up in the quirky yet stunningly beautiful cosmopolis known as the Bay Area, but lived for many years in America's Heartland. His work is thus a mélange of "Left Coast" idealism and Midwestern pragmatism, and has generated headlines in newspapers and network news stations throughout North America. Merging his passions for food and cities, Darrin speaks to audiences across the United States and Canada, arguing how thoughtfully designed city spaces can help improve the quality of the environment, our health, and our social connections.

or
Not Currently Available for Direct Purchase