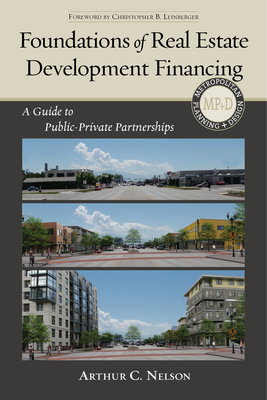 Foundations of Real Estate Development Financing (Hardcover)
A Guide to Public-Private Partnerships (Metropolitan Planning + Design)
Island Press, 9781610915618, 200pp.
Publication Date: November 25, 2014
* Individual store prices may vary.
Description
America's landscape is undergoing a profound transformation as demand grows for a different kind of American Dream--smaller homes on smaller lots, multifamily options, and walkable neighborhoods. This trend presents a tremendous opportunity to reinvent our urban and suburban areas. But in a time of fiscal austerity, how do we finance redevelopment needs? In Foundations of Real Estate Development Finance: A Guide for Public-Private Partnerships, urban scholar Arthur C. Nelson argues that efficient redevelopment depends on the ability to leverage resources through partnerships. Public-private partnerships are increasingly important in reducing the complexity and lowering the risk of redevelopment projects. Although planners are an integral part of creating these partnerships, their training does generally not include real-estate financing, which presents challenges and imbalances in public-private partnership.

This is the first primer on financing urban redevelopment written for practicing planners and public administrators. In easy-to-understand language, it will inform readers of the natural cycle of urban development, explain how to overcome barriers to efficient redevelopment, what it takes for the private sector to justify its redevelopment investments, and the role of public and nonprofit sectors to leverage private sector redevelopment where the market does not generate sufficient rates of return.
 
This is a must read for practicing planners and planning students, economic development officials, public administrators, and others who need to understand how to leverage public and non-profit resources to leverage private funds for redevelopment.
About the Author
Arthur C. Nelson, Ph.D., FAICP, is Associate Dean for Research and Professor of Planning and Real Estate Development in the College of Architecture, Planning and Landscape Architecture at the University of Arizona. He is also Presidential Professor Emeritus of City & Metropolitan Planning at the University of Utah.
For the past thirty years, Dr. Nelson has conducted pioneering research in growth management, urban containment, public facility finance, economic development, and metropolitan development patterns. Numerous organizations have sponsored Dr. Nelson's research, including the National Science Foundation; National Academy of Sciences; U.S. Departments of Housing and Urban Development (HUD), Commerce, and Transportation; U.K. Department of the Environment; Lincoln Institute of Land Policy; Fannie Mae Foundation; American Planning Association; National Association of Realtors; and The Brookings Institution. His research and practice has led to the publication of 14 books and more than 200 other scholarly and professional publications.
Prior to academia, Dr. Nelson managed his own West Coast consultancy in planning and management, and continues to provide professional planning services. In 2000, his professional planning, education, and research accomplishments were recognized as the first Fellow of the American Institute of Certified Planners elected based on a national (as opposed to state) process. From 2000 to 2001, he served HUD as an expert on smart growth and growth management for the Clinton and Bush Administrations. In this capacity, he helped expand HUD's research scholarship programs and create HUD's doctoral fellowship program.
Dr. Nelson has earned three teacher of the year honors at two universities (Kansas State University and Georgia Tech), researcher of the year honors at a third (University of New Orleans), and scholar of the year honors at a fourth (Virginia Tech). His books have shaped the field of impact fees, growth management, and urban containment. His papers have won national awards and international distinction. Dr. Nelson's students have won numerous national awards including the national student project of the year award given by the American Institute of Certified Planners. His former doctoral students are becoming program chairs and research center directors across the U.S. Dr. Nelson has also received numerous commendations for his professional continuing education programs through which he has instructed more than 5,000 professionals in a variety of technical planning and facility financing subjects since the late 1990s.

Praise For Foundations of Real Estate Development Financing: A Guide to Public-Private Partnerships (Metropolitan Planning + Design)…
"The book does a fantastic job of making the intricacies of the development financing world easy to understand."
— Spacing
"Arthur c. Nelson has written a policy guide and practical workbook."
— Planning
or
Not Currently Available for Direct Purchase