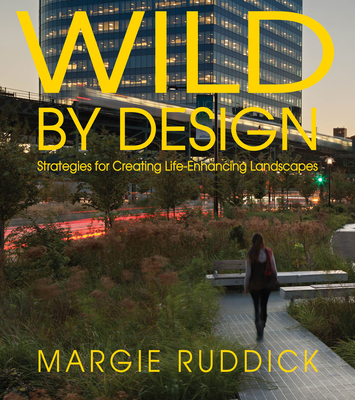 Wild By Design (Paperback)
Strategies for Creating Life-Enhancing Landscapes
Island Press, 9781610915984, 264pp.
Publication Date: March 17, 2016
* Individual store prices may vary.
Description
Can nature—in all its unruly wildness—be an integral part of creative landscape design? In her beautifully illustrated book, Wild by Design, award-winning designer Margie Ruddick urges designers to look beyond the rules often imposed by both landscaping convention and sustainability checklists. Instead, she offers a set of principles for a more creative and intuitive approach that challenges the entrenched belief that natural processes cannot complement high-level landscape design.
 
Wild by Design defines and explains the five fundamental strategies Ruddick employs, often in combination, to give life, beauty, and meaning to landscapes: Reinvention, Restoration, Conservation, Regeneration, and Expression. Drawing on her own projects—from New York City's Queens Plaza, formerly a concrete jungle of traffic, to a desertscape backyard in Baja, California, to the Living Water Park in Chengdu, China—she offers guidance on creating beautiful, healthy landscapes that successfully reconnect people with larger natural systems.
 
A revealing look into the approach of one of sustainable landscape design's most innovative practitioners, Wild by Design stretches the boundaries of landscape design, offering readers a set of broader, more flexible strategies and practical examples that allow for the unexpected exuberance of nature to be a welcome part of our gardens, parks, backyards, and cities.
About the Author
Margie Ruddick, principal of Margie Ruddick Landscape, has designed numerous high-profile projects including New York City's Queens Plaza, Shillim Institute and Retreat in India, and the Living Water Park in Chengdu, China. She has taught at Harvard's Graduate School of Design, Yale, Princeton, Parsons School of Design, and more, and has received extensive recognition for her contributions to landscape design, including the Cooper Hewitt National Design Award. 
Praise For Wild By Design: Strategies for Creating Life-Enhancing Landscapes…
— Better Homes & Gardens
"[one of] spring's most enticing design books"
— New York Magazine
"Profusely and beautifully illustrated throughout with color photography, Wild By Design: Strategies for Creating Life-Enhancing Landscapes ... should be on the personal reading lists of every aspiring and practicing landscape designer."
— Midwest Book Review
"Richly illustrated"
— San Francisco Book Review
"Margie Ruddick artfully explores whether nature, in all its unruly wildness, can be an integral part of design."
— DuJour
"Margie's amazing projects and her philosophy of going 'wild' maker her book Wild by Design a fascinating read."
— Garden Rant
"Spaces designed to be wild should still have a beautiful feel, says Ruddick in her well-produced book with colour photographs to inspire landscape designers, landcare managers, urban planners and home gardenders alike."
— Nexus
"Told in first person, Ruddick's entertaining prose is strongest when imparting valuable lessons learned from years of practice through anecdotal storytelling about her own experiments and conversations with clients and collaborators, giving readers a view into the many types of people and projects that pass through a landscape architecture office."
— Spacing
"An elegant exposition of the importance of artistry in the practice of sustainable landscape design, Wild by Design is essential reading from one of the field's foremost innovators, National Design Award winner Margie Ruddick."
— Caroline Baumann, Director, Cooper Hewitt, Smithsonian Design Museum
"Wild by Design will redefine the way you think about landscapes, particularly the interaction between human activity and the natural world. What sets this book apart is the primacy Margie Ruddick gives aesthetics, beauty, and creativity in making sustainable landscapes, folding conventional green practices into a design context, and into the social and cultural elements always at play in creating or enhancing a sense of place.  She offers equal parts inspiration, information, and instruction, complemented by stunning photographs."
— Walter Hood, Professor, Department of Landscape Architecture and Environmental Planning, UC Berkeley
"Great images, good story. This is a book every architect should read."
— Deborah Berke, FAIA, LEED AP
or
Not Currently Available for Direct Purchase