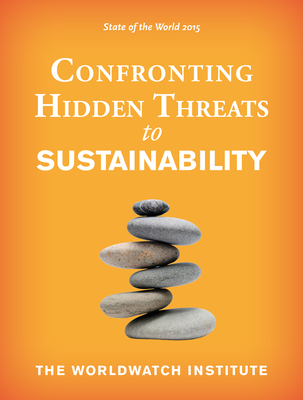 State of the World 2015 (Paperback)
Confronting Hidden Threats to Sustainability
Island Press, 9781610916103, 184pp.
Publication Date: April 13, 2015
* Individual store prices may vary.
Description
We think we understand environmental damage: pollution, water scarcity, a warming world. But these problems are just the tip of the iceberg. Food insecurity, financial assets drained of value by environmental damage, and a rapid rise in diseases of animal origin are among the underreported consequences of an unsustainable global system.

In State of the World 2015, the flagship publication of The Worldwatch Institute, experts explore hidden threats to sustainability and how to address them. How will nations deal with migration as climate change refugees cross borders in order to escape flooding, drought, or other extreme weather events? What will happen to the price and availability of fossil energy—the foundation of industrial civilization--as these resources oscillate between surplus and scarcity? If perpetual economic growth on a finite planet is impossible, what are the alternatives? Can national governments manage the transition? Eight key issues are addressed in depth, along with the central question of how we can develop resilience to these and other shocks.

For decades, The Worldwatch Institute has been a leader in identifying and analyzing emerging environmental threats. With the latest edition of State of The World, the authorities at Worldwatch bring to light challenges we can no longer afford to ignore.
About the Author
Through research and outreach that inspire action, the Worldwatch Institute works to accelerate the transition to a sustainable world that meets human needs. The Institute's top mission objectives are universal access to renewable energy and nutritious food, expansion of environmentally sound jobs and development, transformation of cultures from consumerism to sustainability, and an early end to population growth through healthy and intentional childbearing.

Founded in 1974 by farmer and economist Lester Brown, Worldwatch was the first independent research institute devoted to the analysis of global environmental concerns. Worldwatch quickly became recognized by opinion leaders around the world for its accessible, fact-based analysis of critical global issues. Today, Worldwatch develops innovative solutions to intractable problems, emphasizing a blend of government leadership, private sector enterprise, and citizen action that can make a sustainable future a reality.
Praise For State of the World 2015: Confronting Hidden Threats to Sustainability…
"This well-written book makes a strong case for an urgent reduction in demands on resources such that Earth can remain a sustainable home for humanity...important observations are not accompanied by a 'wringing of hands' approach that is sometimes evident in environmental volumes, but instead a rational analysis of each sustainability threat is presented and a solution offered."
— Quarterly Review of Biology
"The State of the World report has always been at the forefront of bringing new issues and new perspectives to wide public attention in the U.S. and abroad. Devastating findings about our world have been matched with exciting opportunities for action. For 30 years, there has been nothing quite like it, and now comes another major contribution in the series. The 2015 volume once again explores new territory, including, I am happy to see, an examination of whether GDP growth, as we now experience it in places like the United States, brings more costs than benefits. Overall, an extremely important contribution."
— James Gustave Speth, Author, "America the Possible: Manifesto for a New Economy"
"Each year, we can count on State of the World for up-to-date research revealing critical issues of sustainability for our planet and its people. Get it if you want to understand emerging threats and new possibilities. Probably the best investment you will make in 2015!"
— Mathis Wackernagel, President, Global Footprint Network
"State of the World lays out the essential knowledge of what is happening to the planet and the solutions we need to sustain civilization. A cutting-edge compass for a sustainable future: no leader should be without it."
— Thomas E. Lovejoy, Professor of Environmental Science and Policy, George Mason University
"As the world has evolved over the past three decades, so has the annual State of the World report. This edition offers an even more systemic analysis than past ones, integrating finance into its snapshot of ecological and societal trends on Planet Earth. Everyone who cares about the overarching issues shaping our future should pay attention, as the warning lights on our dashboard are glowing."
— Richard Heinberg, Senior Fellow, Post Carbon Institute
or
Not Currently Available for Direct Purchase