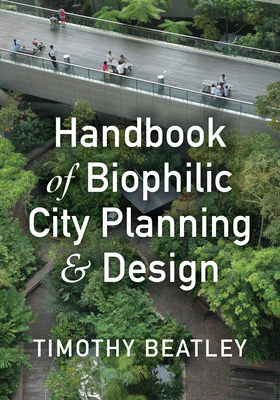 Handbook of Biophilic City Planning & Design
Hardcover

* Individual store prices may vary.
Other Editions of This Title:
Paperback (1/5/2017)
Description
What if, even in the heart of a densely developed city, people could have meaningful encounters with nature? While parks, street trees, and green roofs are increasingly appreciated for their technical services like stormwater reduction, from a biophilic viewpoint, they also facilitate experiences that contribute to better physical and mental health: natural elements in play areas can lessen children's symptoms of ADHD, and adults who exercise in natural spaces can experience greater reductions in anxiety and blood pressure.
 
The Handbook of Biophilic City Planning & Design offers practical advice and inspiration for ensuring that nature in the city is more than infrastructure—that it also promotes well-being and creates an emotional connection to the earth among urban residents. Divided into six parts, the Handbook begins by introducing key ideas, literature, and theory about biophilic urbanism. Chapters highlight urban biophilic innovations in more than a dozen global cities. The final part concludes with lessons on how to advance an agenda for urban biophilia and an extensive list of resources.
 
As the most comprehensive reference on the emerging field of biophilic urbanism, the Handbook is essential reading for students and practitioners looking to place nature at the core of their planning and design ideas and encourage what preeminent biologist E.O. Wilson described as "the innate emotional connection of humans to all living things."
Praise For Handbook of Biophilic City Planning & Design…
"Practical, passionate, and packed with ideas and advice, the Handbook of Biophilic City Planning & Design is a must for anyone looking to transform urban environments into better, more livable places."
— Civil Engineering

"The projects in the Handbook of Biophilic City Planning and Design certainly demonstrate good efforts to re-introduce us to natural environment and to give us a reason to care about what happens to it."
— Spacing Vancouver

"In his latest excellent book...Beatley brings together all the established science, the important case studies, the innovative code and design practices from around the world in one place. Even if you think you already know a lot about this subject, there will be some interesting new facets in this book for you to explore."
— ASLA's The Dirt

"This excellent handbook...is a very useful publication that maintains the flow of information on green and ecological design of cities for man and nature at a time when information exchange and awareness between practitioners is more important than ever. To those new to the concept of biophilic urbanism, the book will be eye-opening. To practitioners and green urbanism theorists, there is much by way of useful, global information, as well as pathways into areas of endeavour in urbanism of which they may not be aware. One is left hungry for more!"
— Nature of Cities

"This comprehensive book...takes on the concept of the biophilic city. Beatley covers topics such as urban forests and trails, edible landscapes, wildlife support, and more. Particularly good is Beatley's concept of the urban nature diet, a "food pyramid" format illustrating how best to integrate nature into city dwellers' lives."
— Landscape Architecture Magazine

"This book is an excellent collection of materials. Not only does it provide a solid theoretical underpinning it also provides a set of case studies from all over the world…It is recommended reading for planners wanting to lead innovative designs merging nature with city spaces, and more so for planners who have yet to discover biophilia."
— Planning West

"More than anything, Beatley's latest book on the integration of nature into cities is...a compendium of the most innovative and inspiring research and practice related to biophilic urban design. And as a kind of inspirational catalog, the book does an excellent job of selling both the idea of biophilic cities and the projects contained within it....The most thorough and convincing catalog of biophilic initiatives in print today."
— Paprika!

"The Handbook is truly inspiring, and Beatley adeptly conveys the importance of biophilic planning design on multiple levels, giving a biophilic vision for students, researchers, practitioners, and policy makers to image as possible futures."
— Journal of Planning Education and Research

"As humans have now become predominately an urban species the need for a connection to nature is ever more important. Timothy Beatley has beautifully documented the nature-connecting strategies that different cities are using to improve the health and well-being of their citizens and local ecosystems."
— Bill Browning, Founding Partner, Terrapin Bright Green

"Ecological urbanism has taken root and blossomed over the past four decades. Tim Beatley's Handbook of Biophilic City Planning & Design gathers the fruits of that movement: a rich cornucopia of inspiring projects and practices from across the globe, which are models for all cities."
— Anne Whiston Spirn, author of "The Granite Garden: Urban Nature and Human Design"

"Professor Beatley grasps the fundamental role of ecological restoration and stewardship in achieving urban environmental sustainability and resilience. He performs a heroic service by meticulously illustrating that communities all around Earth are reintegrating nature into everyday life in their own place-based ways."
— Peter Brastow, Biodiversity Coordinator for San Francisco, California

"In moving beyond green architectural, infrastructural, and technological fixes, Beatley emphasizes an integrated socio-ecological approach to nature-centered urban living—an approach that is increasingly urgent and essential in the Anthropocene. Grounded in theory and accompanied by an international suite of best-and-next practices, this work offers a timely call to action for the planning and design of resilient cities that nurture, protect, and connect with the nature that sustains us."
— Nina-Marie E. Lister, Associate Professor of Urban & Regional Planning, Ryerson University, Toronto, Canada
Island Press, 9781610916196, 312pp.
Publication Date: January 5, 2017
About the Author
Timothy Beatley is Chair of the Department of Urban and Environmental Planning and Teresa Heinz Professor of Sustainable Communities at the School of Architecture at the University of Virginia, where he has taught for over twenty-five years. He is the author of many books, including Planning for Coastal Resilience, Biophilic Cities, and Green Urbanism (Island Press).
or
Not Currently Available for Direct Purchase