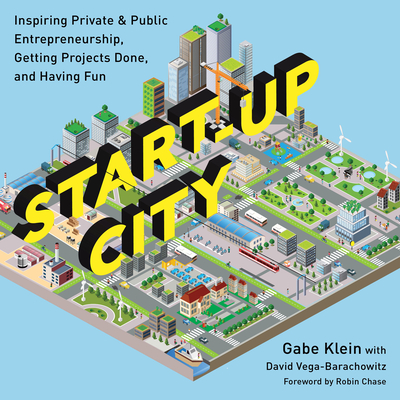 Start-Up City (Paperback)
Inspiring Private and Public Entrepreneurship, Getting Projects Done, and Having Fun
Island Press, 9781610916905, 256pp.
Publication Date: October 15, 2015
* Individual store prices may vary.
Description
There has been a revolution in urban transportation over the past five years—set off by start-ups across the US and internationally. Sleek, legible mobility platforms are connecting people to cars, trains, buses, and bikes as never before, opening up a range of new transportation options while improving existing ones. While many large city governments, such as Chicago, New York, and Washington, D.C., have begun to embrace creative forms and processes of government, most still operate under the weight of an unwieldy, risk-averse bureaucracy.
With the advent of self-driving vehicles and other technological shifts upon us, Gabe Klein asks how we can close the gap between the energized, aggressive world of start-ups and the complex bureaucracies struggling to change beyond a geologic time scale. From his experience as a food-truck entrepreneur to a ZipCar executive and a city transportation commissioner, Klein's career has focused on bridging the public-private divide, finding and celebrating shared goals, and forging better cities with more nimble, consumer-oriented bureaucracies.
In Start-Up City, Klein, with David Vega-Barachowitz, demonstrates how to affect big, directional change in cities—and how to do it fast. Klein's objective is to inspire what he calls "public entrepreneurship," a start-up-pace energy within the public sector, brought about by leveraging the immense resources at its disposal.  Klein offers guidance for cutting through the morass, and a roadmap for getting real, meaningful projects done quickly and having fun while doing it.
This book is for anyone who wants to change the way we live in cities without waiting for the glacial pace of change in government.
About the Author
Gabe Klein is the former DOT director under Mayor Rahm Emanuel's administration in Chicago and former Director of the District DOT under Mayor Adrian M. Fenty. Before working in local government, Klein worked at a few startups, including Zipcar. In 2015, in addition to his other roles, he joined Fontinalis Partners as an SVP (Special Venture Partner) on their new fund. Klein continues to advise a number of technology and mobility companies, including Transit Screen and Phone2Action, where he provides leadership on strategy. He is on the board of NACTO and Streetsblog. 
David Vega-Barachowitz is the former Director of the Designing Cities initiative at the National Association of City Transportation Officials (NACTO). He is currently pursuing his PhD in urban planning at MIT. 
Praise For Start-Up City: Inspiring Private and Public Entrepreneurship, Getting Projects Done, and Having Fun…
"I loved Start-Up City for its witty writing, the lessons it taught and its amazing push of future technology at the end. Gabe Klein did an amazing job of distilling his practices, the elements that made him what he is and the cities he worked with, presenting them in a fun and interesting way…definitely worth of the short time it would take one to read it."

— Spacing
"Let me cut to the chase: Gabe Klein's Start-Up City: Inspiring Private & Public Entrepreneurship, Getting Projects Done, and Having Fun is a delightful book....Accessible, narrative driven,and with some keen insights for practice, Start-Up City is worth your time and your money."
— Journal of the American Planning Association
"Cities are leading the change in America. Start-Up City gives a window into how to align all of the stars to make it happen. Gabe's playbook provides an inside look at how to integrate private-sector skills and processes while instituting strong, public-oriented management and governance. Start-Up City is a must read for anyone interested in making positive change in our cities."
— Ray LaHood, former United States Secretary of Transportation
"Gabe shows us the art of the possible. This book is not just another lofty call to build more livable cities. It is a practical guide on how to put people first in cities and how to move quickly from idea to execution."
— Carol Coletta, Vice President of Community and National Initiatives, The John S. and James L. Knight Foundation
"Adaptation, innovation, and a commitment to getting sh*t done fast aren't management strategies limited to the private-sector boardroom. Investment in our cities is mission critical for our future, and Start-Up City identifies a new urban entrepreneurialism in the public interest."
— Janette Sadik-Khan, Bloomberg Associates; former NYC DOT Commissioner
"Gabe's lessons in Start-Up City break down the barriers between the public and private sectors in pursuit of a greater city and citizenry. The elusive recipe for successfully innovating within the confines of government is in this book."
— Adrian Fenty, former Mayor of Washington, D.C.
"Start-Up City challenges cities to be more nimble and shows them how. Gabe outlines fixes for the disconnect between cities and the private sector. He mixes the simplicity of bike lanes and the wizardry of self-guiding cars with the sharing economy to paint a new picture of mobility. He brings an impish humor to the serious business of change. City-lovers everywhere should read this book."
— Martha Roskowski, Vice President of Local Innovation, PeopleForBikes
"Finally—the missing manual for the vanguard of can-do change agents who have discovered in their cities a once-in-a-generation opportunity to make a real, lasting impact on American government. What Gabe Klein has learned transforming transportation in DC and Chicago will be invaluable as future young leaders take on housing, health care, and other once-intractable urban challenges."
— Anthony Townsend, author of "Smart Cities"
"It is amazing that DC and Chicago gave entrepreneur outsider Gabe Klein the keys to the transportation bus. Now, in Start-Up City, he pulls lessons from the thrilling ride. Klein's disruptive wisdom extracts management, communication, and finance advice from potholes, bike share, and a suite of innovative projects for change-makers inside and outside city hall. Klein muses on a future impacted by cars that drive themselves, but more importantly, advises how to steer that future toward the city we want to live in soon."
— Randy Neufeld, Director, SRAM Cycling Fund
"The collaboration between private and public sectors is vital for the future of downtown management, and in his new book Gabe speaks to how these partnerships can result in meaningful improvements for downtowns."
— Examiner