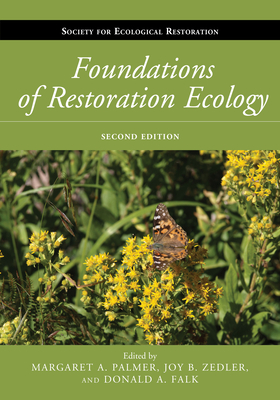 Foundations of Restoration Ecology (Science and Practice of Ecological Restoration) (Paperback)
Island Press, 9781610916974, 584pp.
Publication Date: November 1, 2016
* Individual store prices may vary.
or
Not Currently Available for Direct Purchase
Description
The practice of ecological restoration, firmly grounded in the science of restoration ecology, provides governments, organizations, and landowners a means to halt degradation and restore function and resilience to ecosystems stressed by climate change and other pressures on the natural world. Foundational theory is a critical component of the underlying science, providing valuable insights into restoring ecological systems effectively and understanding why some efforts to restore systems can fail. In turn, on-the-ground restoration projects can help to guide and refine theory, advancing the field and providing new ideas and innovations for practical application.

This new edition of Foundations of Restoration Ecology provides the latest emerging theories and ideas in the science of restoration ecology. Fully one-third longer than the first edition and comprehensive in scope, it has been dramatically updated to reflect new research. Included are new sections devoted to concepts critical to all restoration projects as well as restoration of specific ecosystem processes, including hydrology, nutrient dynamics, and carbon. Also new to this edition are case studies that describe real-life restoration scenarios in North and South America, Europe, and Australia. They highlight supporting theory for restoration application and other details important for assessing the degree of success of restoration projects in a variety of contexts. Lists at the end of each chapter summarize new theory introduced in that chapter and its practical application.

Written by acclaimed researchers in the field, this book provides practitioners as well as graduate and undergraduate students with a solid grounding in the newest advances in ecological science and theory.
About the Author
Margaret A. Palmer is a Distinguished University Professor at the University of Maryland, College Park, and Director of the National Socio-Environmental Synthesis Center. Joy B. Zedler is the Aldo Leopold Professor of Restoration Ecology and Professor of Botany at the University of Wisconsin-Madison. Donald A. Falk is Associate Professor at the University of Arizona School of Natural Resources and the Environment, with joint appointments at the Laboratory of Tree-Ring Research and the Institute of the Environment.
Advertisement