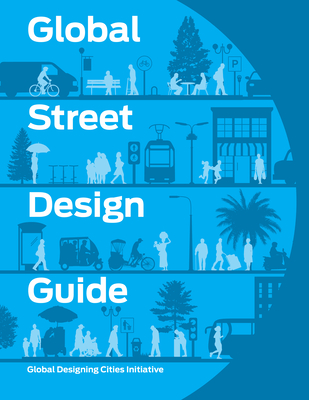 Global Street Design Guide (Hardcover)
Island Press, 9781610917018, 442pp.
Publication Date: October 13, 2016
* Individual store prices may vary.
Description
Each year, 1.2 million people die from traffic fatalities, highlighting the need to design streets that offer safe and enticing travel choices for all people. Cities around the world are facing the same challenges as cities in the US, and many of these problems are rooted in outdated codes and standards.
 
The Global Street Design Guide is a timely resource that sets a global baseline for designing streets and public spaces and redefines the role of streets in a rapidly urbanizing world. The guide will broaden how to measure the success of urban streets to include: access, safety, mobility for all users, environmental quality, economic benefit, public health, and overall quality of life. The first-ever worldwide standards for designing city streets and prioritizing safety, pedestrians, transit, and sustainable mobility are presented in the guide. Participating experts from global cities have helped to develop the principles that organize the guide. The Global Street Design Guide builds off the successful tools and tactics defined in NACTO's Urban Street Design Guide and Urban Bikeway Design Guide while addressing a variety of street typologies and design elements found in various contexts around the world.
 
This innovative guide will inspire leaders, inform practitioners, and empower communities to realize the potential in their public space networks. It will help cities unlock the potential of streets as safe, accessible, and economically sustainable places.

Example cities include: Bangalore, India; Buenos Aires, Argentina; Paris, France; Copenhagen, Denmark; Seoul, Korea; Medellin, Colombia; Toronto, Canada; Istanbul, Turkey; Auckland, New Zealand; Melbourne, Australia; New York, USA; and San Francisco, USA.
About the Author
Supported by Bloomberg Philanthropies and launched in 2014, the Global Designing Cities Initiative (GDCI) focuses on the critical role of streets around the world. GDCI, working in partnership with the National Association of City Transportation Officials (NACTO), is committed to raising the state of the practice for street design and transportation by building a common vision, sharing data, peer-to-peer exchanges and regular communication among international cities. NACTO is a membership network that provides support and resources for city transportation officials in North American cities of all sizes.
Praise For Global Street Design Guide…
"By recognizing the joyful complexity of urban life, as well as the reality that different nations and cultures have different resources and needs, the [Global Street Design Guide] inevitably debunks the one-size-fits-all street design manuals that originated in the mid-20th century and should now be put in the dustbin of history...The Global Street Design Guide, if adopted and applied, will dramatically improve...standards and practices in cities around the world." 
— Nature of Cities
"This invaluable guide brings together extremely useful information and metrics that can assist city administrations, urban designers, planners, landscape architects, and the public in forging new directions in street design...the Global Street Design Guide should find its way onto the shelves of all design and planning firms responsible for improving urban streets, regardless of where they practice." 
— ASLA's The Dirt
"Smart street design improves lives in so many ways, from reducing emissions that cause harmful air pollution and drive climate change, to making streets safer and helping local businesses. The Global Street Design Guide is a powerful resource that can help cities around the world become safer and stronger."
— Michael R. Bloomberg, former Mayor of New York City
"For more than a century, street life was what grew through the cracks in pavement—a liveliness that thrived despite the asphalt and traffic. The Global Street Design Guide starts from an opposite principle, that we can't wait for streets to produce human outliers that survive against the odds, but that we must instead design them to make active, engaging street life inevitable."
— Jan Gehl, Urbanist, Architect, and author of "Cities for People"
"Streets are the foundation of a city's entire social structure—getting around, working, living, shopping, and playing. With this guide, cities have, for the first time, a universal resource for creating cities that operate for everyone who uses them."
— Enrique Penalosa, Mayor of Bogota
"Cities are undergoing a street design revolution, and the Global Street Design Guide is the first document to capture the brave new world of strategies that are transforming cities on every continent. Drawn from life and sourced with real-world examples, this guide establishes a new categorical imperative for safer streets that level the playing field for transit, bike riders, and pedestrians. It creates a new international language for urban livability, mobility, and economy."
— Janette Sadik-Khan, Bloomberg Associates, former Transportation Commissioner for New York City