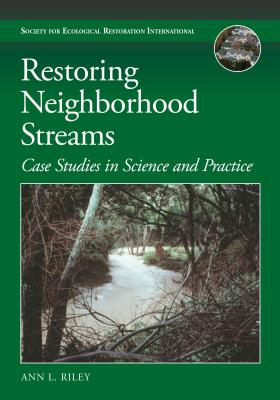 Restoring Neighborhood Streams (Hardcover)
Planning, Design, and Construction (The Science and Practice of Ecological Restoration Series)
Island Press, 9781610917391, 288pp.
Publication Date: July 12, 2016
Other Editions of This Title:
Paperback (7/12/2016)
* Individual store prices may vary.
Description
Thirty years ago, the best thinking on urban stream management prescribed cement as the solution to flooding and other problems of people and flowing water forced into close proximity. Urban streams were perceived as little more than flood control devices designed to hurry water through cities and neighborhoods with scant thought for aesthetics or ecological considerations. Stream restoration pioneers like hydrologist Ann Riley thought differently. She and other like-minded field scientists imagined that by restoring ecological function, and with careful management, streams and rivers could be a net benefit to cities, instead of a net liability. In the intervening decades, she has spearheaded numerous urban stream restoration projects and put to rest the long-held misconception that degraded urban streams are beyond help.

What has been missing, however, is detailed guidance for restoration practitioners wanting to undertake similar urban stream restoration projects that worked with, rather than against, nature. This book presents the author's thirty years of practical experience managing long-term stream and river restoration projects in heavily degraded urban environments. Riley provides a level of detail only a hands-on design practitioner would know, including insights on project design, institutional and social context of successful projects, and how to avoid costly and time-consuming mistakes. Early chapters clarify terminology and review strategies and techniques from historical schools of restoration thinking. But the heart of the book comprises the chapters containing nine case studies of long-term stream restoration projects in northern California. Although the stories are local, the principles, methods, and tools are universal, and can be applied in almost any city in the world.
About the Author
Dr. Ann Riley is the executive director of the Waterways Restoration Institute, and watershed and river restoration advisor for the San Francisco Regional Water Quality Control Board. During her twelve-year tenure with the nonprofit WRI, she has organized, planned, designed, constructed, and funded numerous stream-restoration projects in California and throughout the United States. Her involvement and guidance to community-level nonprofits, as well as her work with local, state, and federal agencies in watershed planning, water quality, water conservation, hydrology, flood management , stream science, and restoration, spans four decades. Her commitment to public policy outreach includes a long history of collaboration with citizen organizations to guide federal and state policy, and she has served on committees for the National Academy of Sciences and the John Heinz Center for Science, Economics, and the Environment.

In both her private- and public-sector work, she has championed jobs and training for conservation and youth corps. In 1982 she cofounded the Urban Creeks Council in California and in 1993 was instrumental in organizing the first conference of the Coalition to Restore Urban Waters, a national network of urban stream and river organizations. In 1984 she spearheaded a program under the auspices of the California Department of Water Resources that continues today to provide grants supporting urban stream restoration.

Dr. Riley's work in river restoration is nationally recognized and she has garnered numerous awards over her long career, including an American Rivers award in1993 for her leadership in establishing a national urban river movement, the California Governors' Environmental and Economic Leadership award in 2003, and the Salmonid Restoration Federation Restorationist of the Year Award in 2004.

Her association with river scientist Luna Leopold reaches back to 1971 in Washington DC, and she completed two graduate degrees under his direction at the University of California, Berkeley. Dr. Riley is an urban farmer at her home in Berkeley, California, where she raises chickens and bees, grows food, and home-brews mead and beer that win awards at state and county fairs.

She is the author of Restoring Streams in Cities and Restoring Neighborhood Streams, both published by Island Press.
Praise For Restoring Neighborhood Streams: Planning, Design, and Construction (The Science and Practice of Ecological Restoration Series)…
"an honest, proficient and hopeful evaluation of the practice of urban stream restoration...anyone with an interest in the field of ecological restoration...will benefit from reading Dr. Riley's book and embracing her wisdom."

—

The Compleat Wetlander

, the blog of the Association of State Wetland Managers

"When Riley entered the field, some called restoration a pipe dream: the waterways were too degraded, the political and economic constraints too great. She and the rest of the local restoration community have proven otherwise. The streams in this book have become neighborhood treasures, with improved water quality and flood safety." 

—

Estuary News



"Exceptionally well written ,organized and presented, Restoring Neighborhood Streams is as informed and informative as it is thoughtful and practical in concept and application."


— Midwest Book Review



"Anyone who cares about creeks and beavers should go buy a copy right now. It will pay for itself many times over."


— Worth a Dam blog
or
Not Currently Available for Direct Purchase