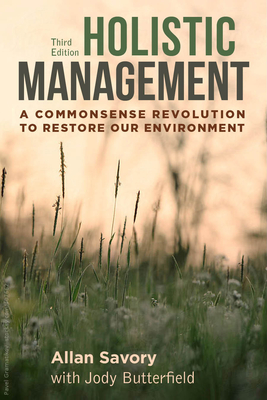 Holistic Management, Third Edition
A Commonsense Revolution to Restore Our Environment
Paperback

* Individual store prices may vary.
Description
Fossil fuels and livestock grazing are often targeted as major culprits behind climate change and desertification. But Allan Savory, cofounder of the Savory Institute, begs to differ. The bigger problem, he warns, is our mismanagement of resources. Livestock grazing is not the problem; it's how we graze livestock. If we don't change the way we approach land management, irreparable harm from climate change could continue long after we replace fossil fuels with environmentally benign energy sources.

Holistic management is a systems-thinking approach for managing resources developed by Savory decades ago after observing the devastation of desertification in his native Southern Rhodesia (now Zimbabwe). Properly managed livestock are key to restoring the world's grassland soils, the major sink for atmospheric carbon, and minimizing the most damaging impacts on humans and the natural world. This book updates Savory's paradigm-changing vision for reversing desertification, stemming the loss of biodiversity, eliminating fundamental causes of human impoverishment throughout the world, and climate change. Reorganized chapters make it easier for readers to understand the framework for Holistic Management and the four key insights that underlie it. New color photographs showcase before-and-after examples of land restored by livestock.

This long-anticipated new edition is written for new generations of ranchers, farmers, eco- and social entrepreneurs, and development professionals working to address global environmental and social degradation. It offers new hope that a sustainable future for humankind and the world we depend on is within reach.
 
Praise For Holistic Management, Third Edition: A Commonsense Revolution to Restore Our Environment…
"[This book] should be on your bookshelf and read and reread until every aspect of this concept is like taking a breath of air—automatic. You will profit, your land will profit, and the world in general will profit."
— Small Farm Today

"Exceptionally well written, impressively informed and informative, thoroughly 'reader-friendly' in organization and presentation, Holistic Management: A Commonsense Revolution to Restore Our Environment will prove to be a practical and invaluable informational resource for ranchers, farmers, eco-and social entrepreneurs, and development professionals working to address global environmental and social degradation."
— Midwest Book Review
Island Press, 9781610917438, 552pp.
Publication Date: November 10, 2016
About the Author
Allan Savory is cofounder and president of the Savory Institute. Born in Zimbabwe and educated as an ecologist with degrees in zoology and botany, Savory has had a decades-long career in African and Middle Eastern government and politics, private consultancy, and teaching. His work in resource management started in the mid-1960s in an effort to find workable solutions ordinary people could implement to restore degraded lands. He and his wife, Jody Butterfield continue those efforts today, reaching a global audience through the efforts of the Savory Institute. 

Jody Butterfield cofounded the Savory Institute with her husband Allan Savory and collaborates with him on books, articles, and papers on holistic management approaches to restoring health to the world's degraded grasslands. She is director of special projects at the Savory Institute.