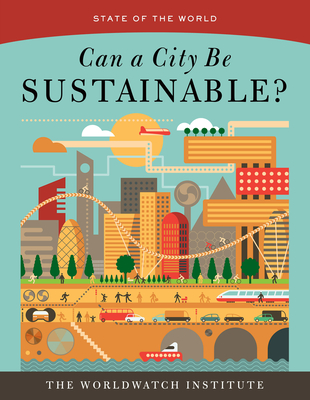 Can a City Be Sustainable? (State of the World) (Paperback)
Island Press, 9781610917551, 448pp.
Publication Date: May 10, 2016
* Individual store prices may vary.
Description
Cities are the world's future. Today, more than half of the global population—3.7 billion people—are urban dwellers, and that number is expected to double by 2050. There is no question that cities are growing; the only debate is over how they will grow. Will we invest in the physical and social infrastructure necessary for livable, equitable, and sustainable cities? In the latest edition of State of the World, the flagship publication of the Worldwatch Institute, experts from around the globe examine the core principles of sustainable urbanism and profile cities that are putting them into practice.

State of the World first puts our current moment in context, tracing cities in the arc of human history. It also examines the basic structural elements of every city: materials and fuels; people and economics; and biodiversity. In part two, professionals working on some of the world's most inventive urban sustainability projects share their first-hand experience. Success stories come from places as diverse as Ahmedabad, India; Freiburg, Germany; and Shanghai, China. In many cases, local people are acting to improve their cities, even when national efforts are stalled. Parts three and four examine cross-cutting issues that affect the success of all cities. Topics range from the nitty-gritty of handling waste and developing public transportation to civic participation and navigating dysfunctional government.

Throughout, readers discover the most pressing challenges facing communities and the most promising solutions currently being developed. The result is a snapshot of cities today and a vision for global urban sustainability tomorrow.    
About the Author
Through research and outreach that inspire action, the Worldwatch Institute works to accelerate the transition to a sustainable world that meets human needs. The Institute's top mission objectives are universal access to renewable energy and nutritious food, expansion of environmentally sound jobs and development, transformation of cultures from consumerism to sustainability, and an early end to population growth through healthy and intentional childbearing.

Founded in 1974 by farmer and economist Lester Brown, Worldwatch was the first independent research institute devoted to the analysis of global environmental concerns. Worldwatch quickly became recognized by opinion leaders around the world for its accessible, fact-based analysis of critical global issues. Today, Worldwatch develops innovative solutions to intractable problems, emphasizing a blend of government leadership, private sector enterprise, and citizen action that can make a sustainable future a reality.
Praise For Can a City Be Sustainable? (State of the World)…
"What is embraced throughout the pages...is our future: not a doom and gloom snapshot of terrible things to come, but a positive look toward what we, as a species, can accomplish if we work at it. Can a City Be Sustainable? brings exciting ideas to our attention in an accessible way...[it] does exactly what it sets out to in its first sentence: give us hope."
"Provides an excellent coverage of urban sustainability, establishing the necessary linkages between the urban climate challenges and the other, equally problematic, environmental excesses of urban civilization...[The book] is undoubtedly a solid contribution and bound to be a reference for some years to come."
"informed and informative"