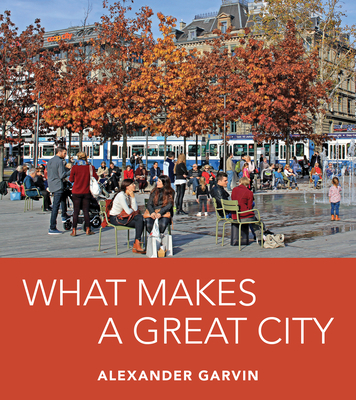 What Makes a Great City (Paperback)
Island Press, 9781610917582, 344pp.
Publication Date: September 8, 2016
Other Editions of This Title:
Hardcover (9/8/2016)
* Individual store prices may vary.
Description
One of Planetizen's Top Planning Books for 2017 • San Francisco Chronicle's 2016 Holiday Books Gift Guide Pick

What makes a great city? Not a good city or a functional city but a great city. A city that people admire, learn from, and replicate. City planner and architect Alexander Garvin set out to answer this question by observing cities, largely in North America and Europe, with special attention to Paris, London, New York, and Vienna.

For Garvin, greatness is not just about the most beautiful, convenient, or well-managed city; it isn't even about any "city." It is about what people who shape cities can do to make a city great. A great city is not an exquisite, completed artifact. It is a dynamic, constantly changing place that residents and their leaders can reshape to satisfy their demands. While this book does discuss the history, demographic composition, politics, economy, topography, history, layout, architecture, and planning of great cities, it is not about these aspects alone. Most importantly, it is about the interplay between people and public realm, and how they have interacted throughout history to create great cities.

To open the book, Garvin explains that a great public realm attracts and retains the people who make a city great. He describes exactly what the term public realm means, its most important characteristics, as well as providing examples of when and how these characteristics work, or don't. An entire chapter is devoted to a discussion of how particular components of the public realm (squares in London, parks in Minneapolis, and streets in Madrid) shape people's daily lives. He concludes with a look at how twenty-first century initiatives in Paris, Houston, Atlanta, Brooklyn, and Toronto are making an already fine public realm even better—initiatives that demonstrate what other cities can do to improve.

What Makes a Great City will help readers understand that any city can be changed for the better and inspire entrepreneurs, public officials, and city residents to do it themselves.
About the Author
Alex Garvin is currently an adjunct professor at the Yale School of Architecture and President and CEO of AGA Public Realm Strategists, Inc., a planning and design firm in New York City that is responsible for the initial master plans for the Atlanta BeltLine as well as other significant public-realm projects throughout the United States. Between 1996 and 2005 he was managing director for planning at NYC2012, the committee to bring the Summer Olympics to New York in 2012. During 2002–2003, he was Vice President for Planning, Design and Development of the Lower Manhattan Development Corporation. Over the last 46 years, he has held prominent positions in five New York City administrations, including Deputy Commissioner of Housing and City Planning Commissioner. He is the author of numerous books including The American City: What Works and What Doesn't, now in its third edition.  
Praise For What Makes a Great City…
"Imagine you're a renowned author, an adjunct member of the faculty at Yale University, and the president of AGA Public Realm Strategists. Would you be surprised if you found yourself unable to answer a question about the fundamental nature of cities? That was the dilemma facing Alexander Garvin as he pondered a question from a friend: "What makes a great city?" Given the resources afforded to someone with the aforementioned accomplishments, Garvin set out to answer the question by traveling the world and identifying the common traits of great cities. His conclusion: people make cities great, and only in cities with great public realms do people have the opportunity to make a great city."
— Planetizen
"When I was the mayor of Miami, Alex Garvin inspired me to improve the city by enhancing its public realm--its streets, squares, and parks. Now, by reading What Makes a Great City, you, too, can be inspired to make the investments that will help your city prosper, compete in a globally competitive economy, and provide generations to come with a better future."
— Manny Diaz
"A well-researched and compelling treatise on how cities become and remain great, What Makes a Great City is something else as well: a love letter to the ideals of urban life at its best." 
— Civil Engineering
"Only a great urban raconteur and connoisseur like Alex Garvin can lead you, with his observant eye and erudite mind, through such an enlightening journey. This is an absolute must-read for students and lovers of cities worldwide."
— Ricky Burdett
"Garvin reveals the animating life force within cities from Barcelona to Brooklyn with the sharp eye of an architect, an anthropologist, and an economist, and with the ardent ability to distinguish great public places from mere space."
— Janette Sadik-Khan
"Garvin here explores the importance of public spaces to public life —and how a 'great' city, unlike a great painting or sculpture, is not an exquisite, completed artifact."
— San Francisco Chronicle
"For cities and the public realm, Alexander Garvin is a modern-day Alexis de Tocqueville and Alexander von Humboldt wrapped together and tied up with a bow! His keen, wise observations, analysis, and insights in What Makes a Great City are a splendid gift to urbanites around the world."
— Eugenie L. Birch
"For urbanists, planners, and architects who appreciate well-designed public spaces, Alexander Garvin's latest publication delivers a carefully constructed tour of cities that accomplish this goal. He shows how they successfully created or enhanced parks, plazas, and squares or established a broader array of civic improvements to attract investment and enhance quality of life."
— Architectural Record
"For those who dream of spending a few days talking with an experienced planner who combines a detailed knowledge of many cities with a structure of thought to place those details in...well, that might not happen. Luckily, we have Alexander Garvin's What Makes a Great City. It's somewhat more personal, but no less rigorous, than his earlier books."
— Planning
"Hundreds of photo illustrations, good writing, and nice organization make What Makes a Great City a perfect volume to add to the libraries of city planners, architects, local politicans, and civic leaders." 
— Manhattan Book Review
"Garvin's previous books...are must-reads for all students of the city. In this latest book, he grabs the reader in the introduction by explaining how he came to write it: he was asked to name the cities he considers great and why. The result is a visual picnic, thanks to Garvin's gorgeous photographs...and an important addition to planning literature."
— Yale Constructs
"Provides readers with a better understanding of the variety of ways that designers, planners, and public officials can improve their cities."
— Journal of Planning Education and Research