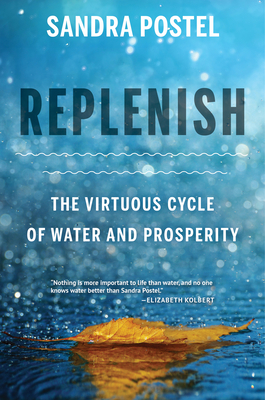 Replenish
The Virtuous Cycle of Water and Prosperity
Hardcover

* Individual store prices may vary.
Other Editions of This Title:
Paperback (3/10/2020)
Description
"Nothing is more important to life than water, and no one knows water better than Sandra Postel. Replenish is a wise, sobering, but ultimately hopeful book." —Elizabeth Kolbert

"Remarkable." —New York Times Book Review

"Clear-eyed treatise...Postel makes her case eloquently." —Booklist, starred review

"An informative, purposeful argument." —Kirkus

We have disrupted the natural water cycle for centuries in an effort to control water for our own prosperity. Yet every year, recovery from droughts and floods costs billions of dollars, and we spend billions more on dams, diversions, levees, and other feats of engineering. These massive projects not only are risky financially and environmentally, they often threaten social and political stability. What if the answer was not further control of the water cycle, but repair and replenishment?

Sandra Postel takes readers around the world to explore water projects that work with, rather than against, nature's rhythms. In New Mexico, forest rehabilitation is safeguarding drinking water; along the Mississippi River, farmers are planting cover crops to reduce polluted runoff; and in China, "sponge cities" are capturing rainwater to curb urban flooding.

Efforts like these will be essential as climate change disrupts both weather patterns and the models on which we base our infrastructure. We will be forced to adapt. The question is whether we will continue to fight the water cycle or recognize our place in it and take advantage of the inherent services nature offers. Water, Postel writes, is a gift, the source of life itself. How will we use this greatest of gifts?
Praise For Replenish: The Virtuous Cycle of Water and Prosperity…
"A remarkable story of rejuvenation."
— New York Times Book Review

"Eschewing mere hand-wringing about climate change, this clear-eyed treatise hops around the world outlining real-world solutions that are already being implemented to affect change on the ground...Postel makes her case eloquently...Such inspirational examples, supplemented by an efficient overview of water-conservation ideas...give cause to celebrate small pockets of hope in our fight to save the planet's precious and vulnerable freshwater."
— Booklist, starred review

"An informative, purposeful argument about why we must accept the moral as well as practical responsibility of water stewardship."
— Kirkus

"Dams, levees, canals: humanity's battle with water is age-old...Sandra Postel's superb study demonstrates how working with wetlands and watersheds can turn that tide. Replenish cites scores of sustainable wins, from permeable pavements that control storm water in Kansas City, Missouri, to groundwater replenishment in rural Rajasthan, India."
— Nature

"Heartening and inspiring...[Postel]'s strong narrative voice and reporter's instinct to buttress her story through quotes and firsthand accounts from affected people around the world make Replenish as readable as it is informative."
— Civil Engineering

"If The Water Will Come gets you too depressed, here's the flip side: Postel's examination of water projects around the world that actually work. If safe drinking water, working watersheds, clean rivers and un-floodable cities matter to you, check this one out."
— Environment Guru

"Confronts readers with some interesting and alarming facts about the global water cycle...Replenish can feel a little soul crushing, but Postel leavens it with successive chapters about the resilient nature of river systems. She highlights the ingenuity of people working with nature to restore our global water supply through regenerative agriculture, reclaimed wastewater, flood risk reduction, and efforts to let rivers flow freely."
— Outside

"Postel weaves a hopeful story of collaboration, innovation, and victory as she imagines restoring healthy watersheds, soils, rivers, groundwater, and atmospheric water...an inspiring journey." 
— Water Canada

"To write this impressive book Postel has done an enormous amount of research...a very readable book for anyone interested in the topic."
— Seattle Book Review

"Provocative and intriguing...Replenish presents us with countless innovative local, national and international solutions."
— Resurgence & Ecologist

"Nothing is more important to life than water, and no one knows water better than Sandra Postel. Replenish is a wise, sobering, but ultimately hopeful book."
— Elizabeth Kolbert, author of The Sixth Extinction

"Postel's Replenish is a great book on so many levels, full of detail-rich storytelling, authentic accounts from communities around the globe, and thorough research. Replenish tells a hopeful story about the future of water security that avoids pitting humans against nature. Instead, Postel points to practical, saleable projects where people, governments, businesses, and environments can all benefit."
— Mark R. Tercek, President and CEO, The Nature Conservancy and author of Nature's Fortune: How Business and Society Thrive By Investing in Nature

"In Replenish, Sandra Postel has provided an eloquent explanation of the global water cycle's role in society and ecosystems, an urgent plea for water conservation, and a host of examples of how real people around the world are getting it done. Everybody who wants to understand environmental sustainability and how to achieve it should read this book."
— John P. Holdren, Professor of Environmental Science and Policy, Harvard University, and former Director, White House Office of Science and Technology Policy

"For a quarter century, Sandra Postel has made the sensible, principled, indisputable case for a water ethic: Inspiring us to live with water today in ways that don't harm future generations and ecosystems. Postel's restorative approach to water has always been the wise course. Her gratifying new book shows why, in the face of climate change, it is time to make it the prevailing one."
— Cynthia Barnett, author of Mirage, Blue Revolution, and Rain: A Natural and Cultural History

"In Replenish, Sandra Postel travels the world to reveal both our biggest water challenges and the new, smart solutions needed for the 21st century. Replenish is not just restorative as its title implies; it is also wonderfully refreshing and deeply satisfying."
— Brad Udall, Senior Water and Climate Scientist/Scholar, Colorado Water Institute, Colorado State University
Island Press, 9781610917902, 336pp.
Publication Date: October 10, 2017
About the Author
Sandra Postel is director of the Global Water Policy Project and co-creator of Change the Course, the national water stewardship initiative awarded the 2017 US Water Prize for restoring billions of gallons of water to depleted rivers and wetlands. From 2009-2015, she served as Freshwater Fellow of the National Geographic Society. Postel is author of Pillar of Sand: Can the Irrigation Miracle Last? and Last Oasis: Facing Water Scarcity, the basis for a PBS documentary. Her work has appeared in Science, Natural History, and Best American Science and Nature Writing.  

 
or
Not Currently Available for Direct Purchase