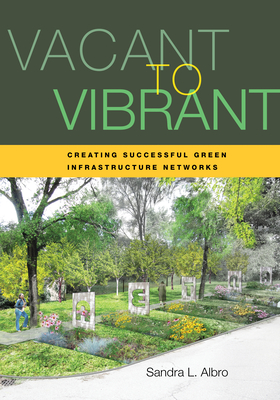 Vacant to Vibrant (Paperback)
Creating Successful Green Infrastructure Networks
Island Press, 9781610919005, 200pp.
Publication Date: April 30, 2019
* Individual store prices may vary.
Description
Vacant lots, so often seen as neighborhood blight, have the potential to be a key element of community revitalization. As manufacturing cities reinvent themselves after decades of lost jobs and population, abundant vacant land resources and interest in green infrastructure are expanding opportunities for community and environmental resilience. Vacant to Vibrant explains how inexpensive green infrastructure projects can reduce stormwater runoff and pollution, and provide neighborhood amenities, especially in areas with little or no access to existing green space.

Sandra Albro offers practical insights through her experience leading the five-year Vacant to Vibrant project, which piloted the creation of green infrastructure networks in Gary, Indiana; Cleveland, Ohio; and Buffalo, New York. Vacant to Vibrant provides a point of comparison among the three cities as they adapt old systems to new, green technology. An overview of the larger economic and social dynamics in play throughout the Rust Belt region establishes context for the promise of green infrastructure. Albro then offers lessons learned from the Vacant to Vibrant project, including planning, design, community engagement, implementation, and maintenance successes and challenges. An appendix shows designs and plans that can be adapted to small vacant lots.

Landscape architects and other professionals whose work involves urban greening will learn new approaches for creating infrastructure networks and facilitating more equitable access to green space.
 
About the Author
Sandra Albro, research associate at Holden Forests & Gardens and project manager for Vacant to Vibrant, studies how urban greening projects on vacant lots can manage stormwater and revitalize neighborhoods in Great Lakes cities. She is also co-chair for the Cleveland Tree Coalition, a local collaborative that is working to implement the Cleveland Tree Plan to grow urban tree canopy.
Praise For Vacant to Vibrant: Creating Successful Green Infrastructure Networks…
"Vacant to Vibrant provides a blueprint for adaptive reuse of vacant land that permeates many US cities. It provides a refreshing view of not jut successful projects, but also of the challenges faced in planning, building and maintaining formerly vacant land to support recreation, stormwater management, habitat, beauty and neighborhood identity."
— Michelle Kondo, Scientist, Urban Forests, Human Health, and Environmental Quality, USDA Forest Service
"Vacant to Vibrant is a timely contribution to addressing the challenges of repurposing vacant land. The low-cost strategies that also engage stakeholders in the design process offers replicable real-world examples that can have real impact."
— Mark Lindquist, Assistant Professor of Landscape Architecture, University of Michigan
"Sandra Albo's book provides a behind-the-scenes look at what it takes to revitalize communities from the ground up, starting with the potential of vacant lots. By capturing details and lessons learned of how communities are rebuilding after decades of economic and environmental decline, this book addresses and translates complex problems, from water infrastructure to social justice, for anyone looking to replicate these successes."
— Jill Jedlicka, Executive Director and Waterkeeper, Buffalo Niagara Waterkeeper
"The citizens of Gary, IN owe a debt of gratitude to Sandra Albo and the Vacant to Vibrant project for helping solve the practical problem of stormwater runoff while helping our residents to reimagine their neighborhoods. This work will have a positive impact in our city for generations to come, and this book will make it possible in many other communities."
— Karen Freeman-Wilson, Mayor of Gary, Indiana