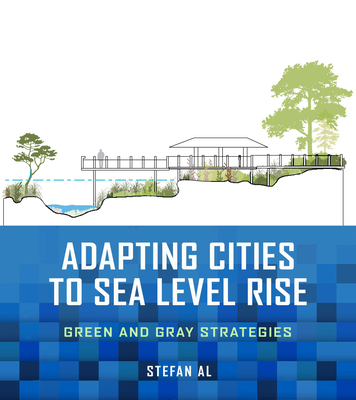 Adapting Cities to Sea Level Rise
Green and Gray Strategies
Paperback

* Individual store prices may vary.
Description
In 2012, Hurricane Sandy floods devastated coastal areas in New York and New Jersey. In 2017, Harvey flooded Houston. Today in Miami, even on sunny days, king tides bring fish swimming through the streets in low-lying areas. These types of events are typically called natural disasters. But overwhelming scientific consensus says they are actually the result of human-induced climate change and irresponsible construction inside floodplains.

As cities build more flood-management infrastructure to adapt to the effects of a changing climate, they must go beyond short-term flood protection and consider the long-term effects on the community, its environment, economy, and relationship with the water.
 
Adapting Cities to Sea Level Rise, by infrastructure expert Stefan Al, introduces design responses to sea-level rise, drawing from examples around the globe. Going against standard engineering solutions, Al argues for approaches that are integrated with the public realm, nature-based, and sensitive to local conditions and the community. He features design responses to building resilience that creates new civic assets for cities. For the first time, the possible infrastructure solutions are brought together in a clear and easy-to-read format.

The first part of the book looks at the challenges for cities that have historically faced sea-level rise and flooding issues, and their response in resiliency through urban design. He presents diverse case studies from New Orleans to Ho Chi Minh to Rotterdam, and draws best practices and urban design typologies for the second part of the book. 

Part two is a graphic catalogue of best-practices or resilience strategies. These strategies are organized into four categories: hard protect, soft protect, store, and retreat. The benefits and challenges of each strategy are outlined and highlighted by a case study showing where that strategy has been applied.

Any professional or policymaker in coastal areas seeking to protect their communities from the effects of climate change should start with this book. With the right solutions, Al shows, sea-level rise can become an opportunity to improve our urban areas and landscapes, rather than a threat to our communities. 
 
Praise For Adapting Cities to Sea Level Rise: Green and Gray Strategies…
"Elegantly designed and easy to read yet packed with useful information on one of the most significant challenges facing the design community, Adapting to Sea Level Rise, is an asset to professionals in the field and policy makers grappling with these issues."
— Civil Engineering

"This concise, readable, and lookable book will help planners, policy makers, and the public to understand their options as the climate continues to change."
— Planning

"Adapting Cities to Sea Level Rise addresses what to do to protect the waning 28 percent of the Earth's surface that is not yet flooded…This is a book that should be on the shelves of anyone involved in coastal defense."
— Urban Design

"Leveraging his strong architecture and urban design background, Al saturated the text with dazzling graphics and maps, giving the book the feel of an easy and enjoyable coffee table reference book. The flood pictures are breathtaking. The future flood maps are compelling and informative.The diagrams are polished and supplemented by helpful pictures of real-world infrastructure. Perhaps most importantly, the book is strong for its unwavering commitment to mixed strategies that consider the broader needs of a city and its people, in lieu of traditional gray infrastructure strategies that consider only the immediate engineering task at hand.. Al's book is an excellent introductory text in innovative gray and green flood management strategies for civil engineers, urban designers, landscape architects, or planners, especially students of those professions... Adapting Cities to Sea Level Rise provides a tremendously valuable basic understanding of key concepts, and peaks interest for deeper dives into specific strategies if desired."
— Journal of Planning Education and Research

"Stefan Al provides an accessible overview of typical strategies for designing an urban shoreline to respond to flooding, with a strong emphasis on past and present Dutch approaches. Numerous illustrations make it useful for non-designers, as well as students of design. I recommend the book to planners and designers who are looking for an introduction to strategies for coastal design."
— Kristina Hill, Associate Professor, University of California, Berkeley

"Adapting Cities to Sea Level Rise is a frank typological exploration that synthesizes civil engineering, landscape, and urban design considerations into an accessible reference that highlights the adaptive and maladaptive tendencies of design. Rich with case studies, the book provides critical insights into the nuances shaping the life cycle of design interventions."
— Jesse M. Keenan, Faculty of Architecture, Harvard University, Graduate School of Design

"With his book, Stefan Al presents an inspiring and extensive toolbox of strategies that cities can embrace to adapt to sea level rise. Al looks across the world optimistically: yes we can do it! And we must, since there is no time to waste. Adaptation is different in every place, and this book shows us how to maximize opportunities if only we work together in a truly inclusive and comprehensive way."
— Henk Ovink, Special Envoy for International Water Affairs, Kingdom of The Netherlands, Sherpa to the UN and World Bank High Level Panel on Water, and Principal for Rebuild by Design
Island Press, 9781610919074, 160pp.
Publication Date: November 20, 2018
About the Author
Stefan Al is an architect, urban designer, and infrastructure expert at global design firm Kohn Pedersen Fox in New York. He has published several books, including Factory Towns of South China: An Illustrated Guidebook and The Strip: Las Vegas and the Architecture of the American Dream. As a practicing architect and urban designer, he has worked on renowned projects such as the Canton Tower in Guangzhou.
or
Not Currently Available for Direct Purchase