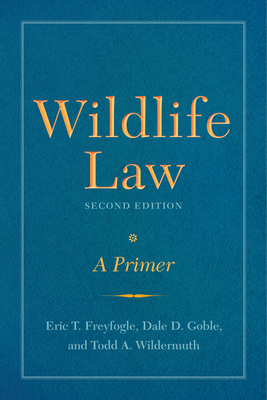 Wildlife Law, Second Edition
A Primer
Paperback

* Individual store prices may vary.
Description
Wildlife is an important and cherished element of our natural heritage in the United States. But state and federal laws governing the ways we interact with wildlife can be complex to interpret and apply. Ten years ago, Wildlife Law: A Primer was the first book to lucidly explain wildlife law for readers with little or no legal training who needed to understand its intricacies. Today, navigating this legal terrain is trickier than ever as habitat for wildlife shrinks, technology gives us new ways to seek out wildlife, and unwanted human-wildlife interactions occur more frequently, sometimes with alarming and tragic outcomes.

This revised and expanded second edition retains key sections from the first edition, describing basic legal concepts while offering important updates that address recent legal topics. New chapters cover timely issues such as private wildlife reserves and game ranches, and the increased prominence of nuisance species as well as an expanded discussion of the Endangered Species Act, now more than 40 years old. Chapter sidebars showcase pertinent legal cases illustrating real-world application of the legal concepts covered in the main text.

Accessibly written, this is an essential, groundbreaking reference for professors and students in natural resource and wildlife programs, land owners, and wildlife professionals.
 
Praise For Wildlife Law, Second Edition: A Primer…
"Wildlife Law: A Primer is an indispensable reference for anyone engaged in wildlife conservation. Covering a vast and complex field with both clarity and depth, this easy-to-understand primer is a must-have for biologists, land managers, journalists, lawyers, judges, citizen advocates, and anyone who deals with conservation. Used in college and professional courses, this book is bound to empower a new generation of wildlife advocates."
— Mary Christina Wood, Philip H. Knight Professor, University of Oregon School of Law
"Wildlife Law is impressive in its breadth and depth, providing analysis that is informative and insightful for experts, yet engagingly accessible for non-experts. It is unique in the topics it covers and fills a critical need for lawyers, wildlife managers, students, and scholars."
— Eric Biber, Professor of Law, University of California, Berkeley
"This invaluable primer is an excellent resource for wildlife professionals, lawyers, students, and those who love the outdoors. The authors deftly balance theory and practice in this comprehensive, accessible journey through wildlife law."
— Andy Buchsbaum, National Wildlife Federation, Vice President, Conservation Partnerships
Island Press, 9781610919135, 344pp.
Publication Date: October 15, 2019
About the Author
Eric T. Freyfogle is Research Professor and Swanlund Chair Emeritus at the University of Illinois at Urbana-Champaign, where he has taught for over thirty years in the areas of natural resources, property and land use law, environmental law and policy, wildlife law, and conservation thought.

Dale D. Goble is Professor Emeritus of Law (formerly University Distinguished Professor and Margaret Wilson Schimke Distinguished Professor of Law) at the University of Idaho, where his teaching and research have focused on the intersection of natural resource law and policy, constitutional law, and history.

Todd A. Wildermuth directs the Environmental Law Program and is Policy Director of the Regulatory Environmental Law and Policy Clinic at the University of Washington School of Law. He teaches in the School of Law and also in the University of Washington College of the Environment.
 
or
Not Currently Available for Direct Purchase