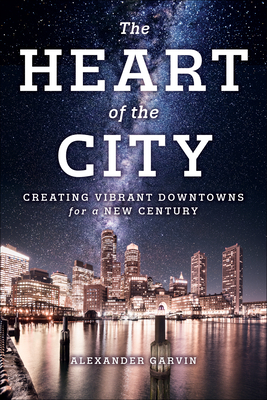 The Heart of the City
Creating Vibrant Downtowns for a New Century
Paperback

* Individual store prices may vary.
Description
Downtowns are more than economic engines: they are repositories of knowledge and culture and generators of new ideas, technology, and ventures. They are the heart of the city that drives its future. If we are to have healthy downtowns, we need to understand what downtown is all about; how and why some American downtowns never stopped thriving (such as San Jose and Houston), some have been in decline for half a century (including Detroit and St. Louis), and still others are resurging after temporary decline (many, including Lower Manhattan and Los Angeles). The downtowns that are prospering are those that more easily adapt to changing needs and lifestyles.

In The Heart of the City, distinguished urban planner Alexander Garvin shares lessons on how to plan for a mix of housing, businesses, and attractions; enhance the public realm; improve mobility; and successfully manage downtown services. Garvin opens the book with diagnoses of downtowns across the United States, including the people, businesses, institutions, and public agencies implementing changes. In a review of prescriptions and treatments for any downtown, Garvin shares brief accounts—of both successes and failures—of what individuals with very different objectives have done to change their downtowns. The final chapters look at what is possible for downtowns in the future, closing with suggested national, state, and local legislation to create standard downtown business improvement districts to better manage downtowns.

This book will help public officials, civic organizations, downtown business property owners, and people who care about cities learn from successful recent actions in downtowns across the country, and expand opportunities facing their downtown. Garvin provides recommendations for continuing actions to help any downtown thrive, ensuring a prosperous and thrilling future for the 21st-century American city.
Praise For The Heart of the City: Creating Vibrant Downtowns for a New Century…
"Heavily informed by examples...The Heart of the City is practical, packed with information, and a reminder that 'Downtowns are unable to change anything. People change downtowns.'"
— Civil Engineering

"The Heart of the City...provides plentiful information that will assist planners, developers, businesspeople, and activists engaged in the promotion and management of the resurgence of downtowns... there is much to learn for academics interested in downtown development and planning from this practice oriented book."
— Journal of Urban Affairs

"The book is concise and readable yet packed with a well-balanced mix of data and examples, arranged into eight clearly outlined chapters that build upon one another and conclude with bold proposals for how to give downtowns the powerful tools they need to continue thriving…. this book should be required reading for city officials as well as for the leadership and staff of BIDs, CDCs, and other downtown organizations."
— Journal of the American Planning Association

"Alex Garvin looks at cities with a clearer eye than any other planner in America. He loves cities, but I think he loves empirical observation even more. This book is a paean to downtown, driven not by dogma but by a realistic, practical sensibility and an understanding of how cities really work, seasoned with passion and a lifetime of knowledge."
— Paul Goldberger, architecture critic and Contributing Editor, Vanity Fair

"In her great 1960s song, Petula Clark sang 'Downtown, everything is waiting for you.' Five decades later, Alex Garvin, one of our great urbanists, eloquently and concretely illuminates how to execute on the same timeless formula for downtowns to thrive—mass transit to dense mixed use, a great public realm, retail, and culture."
— Dan Doctoroff, Founder and CEO, Sidewalk Labs

"Alex Garvin is one of the country's most knowledgeable urban planners. His insights, based on more than half a century's experience, are essential for understanding the potential of civic space and urban development going forward."
— Deborah Berke, Dean, Yale School of Architecture
Island Press, 9781610919494, 264pp.
Publication Date: May 7, 2019
About the Author
Alexander Garvin is currently an adjunct professor at the Yale School of Architecture and President and CEO of AGA Public Realm Strategists, Inc., a planning and design firm in New York City that is responsible for significant public-realm projects throughout the United States. Over the last 49 years, he has held prominent positions in five New York City administrations, including Deputy Commissioner of Housing and City Planning Commissioner. He is the author of numerous books including The American City: What Works and What Doesn't and What Makes a Great City, published in 2016 by Island Press.