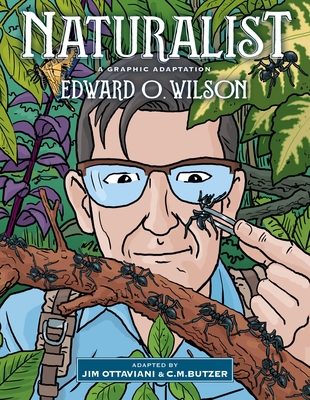 Naturalist
A Graphic Adaptation
Hardcover

* Individual store prices may vary.
Other Editions of This Title:
Digital Audiobook (8/31/2020)
Compact Disc (9/1/2020)
MP3 CD (9/1/2020)
Paperback (4/24/2006)
Description
"Poised to inspire a new generation of naturalists." - Publishers Weekly
A vibrant graphic adaptation of the classic science memoir
Regarded as one of the world's preeminent biologists, Edward O. Wilson spent his boyhood exploring the forests and swamps of south Alabama and the Florida panhandle, collecting snakes, butterflies, and ants—the latter to become his lifelong specialty. His memoir
Naturalist
, called "one of the finest scientific memoirs ever written" by the
Los Angeles Times
, is an inspiring account of Wilson's growth as a scientist and the evolution of the fields he helped define. This graphic edition, adapted by
New York Times
 bestselling comics writer Jim Ottaviani and illustrated by C.M.Butzer, brings Wilson's childhood and celebrated career to life through dynamic full-color illustrations and Wilson's own lyric writing.
In this adaptation of
Naturalist
, vivid illustrations draw readers in to Wilson's lifelong quest to explore and protect the natural world. His success began not with an elite education but an insatiable curiosity about Earth's wild creatures, and this new edition of
Naturalist
makes Wilson's work accessible for anyone who shares his passion. On every page, striking art adds immediacy and highlights the warmth and sense of humor that sets Wilson's writing apart. 
Naturalist
was written as an invitation—a reminder that curiosity is vital and scientific exploration is open to all of us. Each dynamic frame of this graphic adaptation deepens Wilson's message, renewing his call to discover and celebrate the little things of the world.
Praise For Naturalist: A Graphic Adaptation…
"Ottaviani (Hawking) skillfully adapts Wilson's spirited 1994 memoir into a graphic narrative full of personality, but without skimping on the science….This hearty graphic memoir is poised to inspire a new generation of naturalists."
— Publishers Weekly

"E.O. Wilson comes off looking like the super hero that he truly is. I highly recommend this book for kids of all ages who want to learn a lot about conservation and commitment....Get this book! Everyone in your house will be curious to look through it and will surely appreciate it's presence on the coffee table."
— E-Magazine

"[A] wonderful graphic adaptation of biologist EO Wilson's memoirs. It's touching and enlightening and leaves you feeling excited about the natural world."
— Five Books

"Ottaviani's adaptation is astonishingly detailed…Butzer's illustrations are charming... Wilson's life is undoubtedly a rich and fascinating one."
— Booklist

"Through Ottaviani's interpretation of Wilson's words, as well as Butzer's skillful capturing of thoughts and events in his colourful and accessible art, Naturalist: A Graphic Adaptation manages to both inform and entertain. It tells the story of Edward O. Wilson's remarkable life and career in a way that impresses and inspires, and reading it with hopefully prompt others to follow the same path as Wilson and do what they can to increase knowledge and understanding of the natural world."
 
— Culture Fly

"This is a wonderful idea brilliantly executed…The story captures Wilson's warm, gentle humor, his sense of adventure, and his passion for his work. It is an accessible story that still conveys the science of the original edition. It's a must-have for Wilson fans…but will also reach a new generation of readers. A perfect gift for the comic book fan or budding naturalist on your list."
— Cool Green Science

"A convincing, and compelling, version of Naturalist…this version is readable and approachable, and was well worth doing."
— New Welsh Review

"Entertaining, absorbing, informative, insightful, thoroughly 'reader friendly' in presentation, and inherently interesting from first page to last, Naturalist: A Graphic Adaptation will prove to be a uniquely welcome and enduringly popular addition to community and college/university library biography collections."
— Midwest Book Review

"It was fun and easy to be inspired by Edward O. Wilson's curiosity…I would highly recommend this book for teenagers who seek knowledge or any adult who want to mix up their reading with something that will inspire."
— Get In My Garden

"The graphic format works well for such a tale.... I enjoyed this book a lot and more than I thought I might. I think many readers of this blog will too"
— Mark Avery's Blog

"Edward O. Wilson, one of the world's best scientists, grew up catching insects and snakes in the forests and swamps near his home. This graphic novel tells his life story in a truly eye-catching way."
— Science+Nature

"This is an inspiring and accessible account – of his career and the fields he helped to define – for all ages."
— In Practice

"In this colorful portrayal of the life of the award-winning evolutionary biologist, the reader is shown the recipe that helped shape this ever inquiring youth into the world recognized scientist."
— Manhattan Book Review
Island Press, 9781610919586, 240pp.
Publication Date: November 10, 2020
About the Author
Edward O. Wilson is the author of more than twenty books, including The Ants and On Human Nature, both of which were awarded the Pulitzer Prize. He is currently Faculty Emeritus in the Museum of Comparative Zoology and Pellegrino University Professor, Emeritus at Harvard University.

Jim Ottaviani has written a dozen graphic novels about scientists. His most recent books are Hawking, The Imitation Game (a biography of Alan Turing), Primates (about Jane Goodall, Dian Fossey, and Biruté Galdikas) and Feynman, a book about the Nobel-prize winning physicist, bongo-playing artist, and raconteur Richard Feynman. His books are New York Times bestsellers, have been translated into over a dozen languages, and have received praise from publications ranging from Nature and Physics World to Entertainment Weekly and Variety. Jim lives in Michigan and comes to comics via careers in nuclear engineering and librarianship.

C.M.Butzer is an illustrator, printmaker, and cartoonist. His work has appeared in numerous books, publications, and textiles. In 2009, he wrote and drew Gettysburg: The Graphic Novel for HarperCollins. Butzer is also a storyboard and concept artist whose clients have included Facebook, Google, and Microsoft. After 13 years of residing in Brooklyn, he and his wife moved to Hilo, Hawaii, where he does not miss winter.