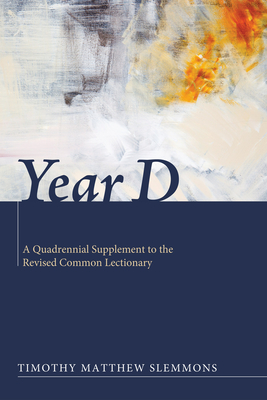 Year D
A Quadrennial Supplement to the Revised Common Lectionary
Paperback

* Individual store prices may vary.
Other Editions of This Title:
Hardcover (5/4/2012)
Description
Synopsis: Although one often hears of the need to preach "the whole counsel of God," few resources have seriously and specifically attempted to assist the preacher and planner of worship to do just that--until now. Year D makes the case for the need and promise of supplementing the Revised Common Lectionary with a fourth year of lections and arranges many previously excluded biblical texts in an orderly, one-year preaching plan. It fills a need widely voiced by preachers that the lectionary effectively limits and censors the functional canon of Scripture. Destined to serve as a staple source of significant revitalization in mainline preaching and worship, Year D banks on the agency of Word and Spirit to renew the church as few practical proposals have done in the last twenty years, lending new focus and impetus for exploring the Bible's forgotten riches. A timely and urgently needed "return to the sources," Year D represents a fresh appropriation of neglected and marginalized texts for preaching, worship, education, and devotion, and thus constitutes a substantive, scriptural attempt to address what Walter Brueggemann has called "the current preaching emergency." Endorsements: "Slemmons, a creative and careful scholar, spent years researching, drawing up, collegially testing, and critically assessing Year D, an every fourth-year supplement to the Revised Common Lectionary that encourages preachers to seek for themselves and their congregants the 'whole counsel of God.' Well written and theologically perspicacious, Year D is a superb practical achievement." --Charles Louis Bartow, Egner Professor Emeritus of Speech Communication in Ministry, Princeton Theological Seminary "Slemmons urges preachers to break out of the lectionary and bring to the pulpit difficult texts the Revised Common Lectionary studiously muffles--texts of judgment and penitence, Gospel conflict stories, apocalyptic material, and household codes. Further, with a disciplined Reformed vision and a pastor's longing for the church's renewal, Slemmons engages readers in a stimulating project of rethinking preaching and liturgy as both judgment and grace." --Sally A. Brown, Elizabeth M. Engle Associate Professor of Preaching and Worship, Princeton Theological Seminary "One does not have to agree that 'the primary and most valid objection to the RCL . . . is] its incompleteness, ' to yet assert that Slemmons's Year D is a remarkable piece of work . . . Slemmons's work with untapped psalms is particularly helpful, and his demand that we hear the prophets is crucial. This document feels like a lifetime commitment. Year D will stimulate a pastor's work and deepen its result." --Eugene Lowry, William K. McElvaney Professor Emeritus of Preaching, Saint Paul School of Theology Author Biography: Timothy Matthew Slemmons is Assistant Professor of Homiletics and Worship at the University of Dubuque Theological Seminary. He is author of Groans of the Spirit: Homiletical Dialectics in an Age of Confusion (2010).
Cascade, 9781610973120, 148pp.
Publication Date: May 4, 2012