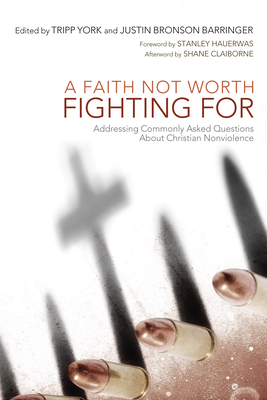 A Faith Not Worth Fighting for
Addressing Commonly Asked Questions about Christian Nonviolence (Peaceable Kingdom #1)
Paperback

* Individual store prices may vary.
Other Editions of This Title:
Hardcover (5/17/2012)
Description
Synopsis: In A Faith Not Worth Fighting For, editors Justin Bronson Barringer and Tripp York have assembled a number of essays by pastors, activists, and scholars in order to address the common questions and objections leveled against the Christian practice of nonviolence. Assuming that the command to love one's enemies is at the heart of the Gospel, these writers carefully, faithfully--and no doubt provocatively--attempt to explain why the nonviolent path of Jesus is an integral aspect of Christian discipleship. By addressing misconceptions about Christian pacifism, as well as real-life violent situations, this book will surely challenge the reader's basic understanding of what it means to be a follower of Jesus. Endorsements: In this anthology of new essays, theologians reply to such challenges to Christian pacifism as what would you do if someone were attacking a loved one, what about Hitler, and didn't Jesus chase people from the temple with a whip? By countering common objections to the Christian peace witness, the book endeavors to help both pacifists and nonpacifists alike gain a deeper understanding of how a Christian commitment to nonviolence can be enacted and supported. Especially strong essays include "What About War and Violence in the Old Testament?" by Ingrid Lilly (Western Kentucky University) and "Didn't Jesus Say He Came Not to Bring Peace, but a Sword?" by Samuel Wells (Be Not Afraid), which combines a close reading of the biblical text with a contemporary illustration of the difference between appeasement and a principled peace stance. The essays are, on the whole, varied, lively, and thought provoking. The book includes an introduction by Stanley Hauerwas (War and the American Difference) and an afterword by Shane Claiborne (Irresistible Revolution). --Publishers Weekly "Addressing oft-heard questions posed to Christians who refuse to kill, this is a must-read book for all Christians occupying church pews or sitting behind desks in college classrooms. . . . Even if one does not agree with everything written here (and I don't), A Faith Not Worth Fighting For helpfully clarifies the theology of Christian nonviolence so as to foster further--and hopefully fruitful--conversation." --Tobias Winright Associate Professor of Theological Ethics, Saint Louis University "This book addresses the predictable questions posed to pacifists. Having spoken publicly hundreds of times and in varied contexts on pacifism, I know this. However, having read widely on the subject of the Christian faith and violence, I also know that this book is a rare treat. For it offers mature, carefully considered reflections on this standard set of issues. This is almost unheard of; this book is a valuable resource." --Mark Thiessen Nation Professor of Theology, Eastern Mennonite University "A Faith Worth Fighting For is much needed. Its essays provide readers with clear thinking and moral seriousness that challenge all followers of Jesus to journey with him in the ways of peace. Just about any possible objection to Christian pacifism is considered--and overcome." --Ted Grimsrud, Professor of Theology and Peace Studies, Eastern Mennonite University Editor Biographies: Tripp York teaches in the Religious Studies Department at Virginia Wesleyan College in Norfolk, VA. He is the author and editor of numerous books including Third Way Allegiance, Living on Hope While Living in Babylon, and The Devil Wears Nada. Justin Bronson Barringer is a graduate student at Asbury Theological Seminary where he also works for the Office of Global Community Formation. He has been a missionary in China and Greece, worked extensively among homeless people in Nashville, and served at mercy and justice organizations like The Dream Center and Sojourners.
Cascade Books, 9781610974998, 243pp.
Publication Date: May 17, 2012