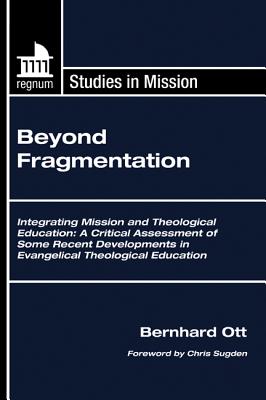 Beyond Fragmentation (Regnum Studies in Mission)
Paperback

* Individual store prices may vary.
Other Editions of This Title:
Paperback (12/31/2009)
Description
Beyond Fragmentation is an inquiry into the development of mission studies in evangelical theological education in Germany and German-speaking Switzerland between 1960-1995. This is carried out by a detailed examination of the paradigm shifts, which have taken place in recent years in both the theology of mission and the understanding of theological education. David Bosch's proposal of an emerging ecumenical mission paradigm is examined with reference to the schools in membership with the Konferenz Bibeltreuer Ausbildungsstatten (KBA). The KBA schools have been greatly influenced by the work of Peter Beyerhaus and the Frankfurt Declaration (1970), and, as such, defend a conservative theological position and resist the challenge of Bosch's mission paradigm shift, the key issue being that of hermeneutics. Ott further explores the emerging new paradigm of theological education in both the Western and Two Thirds World contexts. While the evangelical Bible school movement has historically embodied many of the features of this new paradigm, they nevertheless have jeopardized these by their pursuit of academic accreditation. Ott believes that theological conservatism has caused the KBA schools to resist changes in the areas of contextual and inductive learning. Finally, Ott studies the schools' pattern of change and change-resistance through combining the insights of Thomas Kuhn, Hans Kung and Alasdair MacIntyre to hermeneutical and epistemological issues. ""Ott's masterly work presents fundamental challenges to conservative evangelical ways of theologizing about mission - which, he argues, do theology badly and give poor education. He provides new ways for them to do things better."" Bernard Farr, OCMS. Oxford ""In Beyond Fragmentation Bernhard Ott analyses the situation in a number of evangelical colleges in Germany and Switzerland. He describes their teaching methods as 'devastating' and offers recommendations how they could overcome their isolation from the rest of the evangelical world and integrate mission into their program. A courageous, controversial, but necessary book."" Walter Hollenweger, Krattigen. Switzerland ""It is a lot easier to continue the inherited 'fragmentation' than to risk the integration of a missionary awareness and the postmodern complexities of theological thinking. Ott's study demonstrates that integration can work only if both sides let go any claim to privileged knowledge."" Werner Ustorf. Department of Theology. University of Birmingham Bernhard Ott, born and raised in Switzerland, is married with four children. He is a member and minister of the Evangelische Taufergemeinde. Basel, Switzerland, Director of Studies at the Theological Seminary, Bienenberg, Liestal/Baset, Switzerland. He undertook Theological training in Switzerland, North America, and the United Kingdom.
Wipf & Stock Publishers, 9781610975957, 382pp.
Publication Date: June 17, 2011
or
Not Currently Available for Direct Purchase