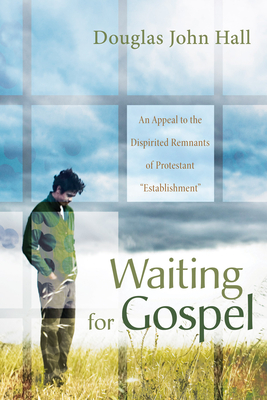 Waiting for Gospel (Paperback)
An Appeal to the Dispirited Remnants of Protestant Establishment
Cascade Books, 9781610976725, 226pp.
Publication Date: April 16, 2012
* Individual store prices may vary.
Description
Synopsis: "Christianity, as faith centered in Jesus as the Christ came to be called, got a foothold in the world, and for a vital and vocal minority changed the world, because it proclaimed a message that awakened men and women to possibilities for human life that they had either lost or never entertained. That message the first Christian evangelists (and Jesus himself, according to the record) called euangellion--good news, gospel. For its first two or three hundred years, Christianity was largely dependent for its existence upon the new zest for life that was awakened in persons who heard and were, as they felt, transformed, by that gospel; and at various and sundry points in subsequent history the Christian movement has found itself revitalized by the spirit of that same 'good news' in ways that spoke to the specifics of their times and places. "The lesson of history is clear: the challenge to all serious Christians and Christian bodies today is not whether we can devise yet more novel and promotionally impressive means for the transmission of 'the Christian religion' (let alone this or that denomination); it is whether we are able to hear and to proclaim . . . gospel We do not need statisticians and sociologists to inform us that religion--and specifically our religion, as the dominant expression of the spiritual impulse of homo sapiens in our geographic context--is in decline. We do not need the sages of the new atheism to announce in learned tomes (and on buses ) that 'God probably does not exist.' The 'sea of faith' has been ebbing for a very long time." --from the Introduction Endorsements: "Douglas John Hall is a treasure, a man I have known whose intellectual depth is matched only by his spirit of kindness. . . . So to is Waiting for Gospel. As people continue to discuss the place of the church in North America leaning on sociology and cultural studies, Doug Hall reminds us that in the end it will be only theology, a lived theology of existential depth, that will help. All the contemporary talk of church in North America has so often failed to provide truly unique and insightful thoughts . . . about how God's revelation in Jesus Christ is encountering people in this context, at this time. Waiting for Gospel propels us in that direction and therefore shines brightly, giving the reader value upon value." --Andrew Root Olson Baalson Associate Professor of Youth and Family Ministry, Luther Seminary, St. Paul, Minnesota Author of The Promise of Despair: The Way of the Cross as the Way of the Church (2010) Author Biography: Douglas John Hall is Emeritus Professor of Christian Theology in the Faculty of Religious Studies of McGill University in Montreal. He is the author of more than twenty-five books, including Lighten Our Darkness (1976, 2001); Why Christian? (1998); God and Human Suffering (1986); The Steward (1990; Wipf & Stock, 2004); and The Messenger (Cascade Books, 2011). He has lectured widely in Canada, the United States, Germany, and Japan, and is the recipient of many honors, including the Distinguished Alumnus Award of Union Theological Seminary, the Joseph Sittler Award for Leadership in Theology, and the Order of Canada.