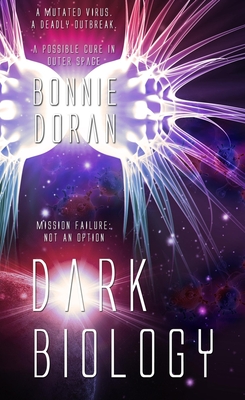 Dark Biology
Paperback

* Individual store prices may vary.
Description
Renowned vaccinologist "Hildi" Hildebrandt has set her sights on beating her brother to a Nobel Prize, and the opportunity to conduct experiments on the International Space Station might just provide the means to obtain that goal.
Chet Hildebrandt should have had that opportunity. But now he'll teach a lesson to them all: his hot-shot astronaut sister, his philandering hypocritical father, and the CDC for not properly appreciating his work. One vial of a virus purloined from the CDC labs and released at his father's marriage seminar should do the trick, without hurting anybody. After all, it's only a mild influenza strain...
Or is it?

Harbourlight Books, 9781611162776, 340pp.
Publication Date: October 25, 2013
About the Author
Bonnie Doran: Prior Publishing History Sixty-seven devotionals published in: A Cup of Comfort Devotional for Women, edited by James Stuart Bell and Carol McLean Wilde, Adams Media, 2005 Devotions devotional magazine: 2006-2011 For Better, for Worse: Devotional Thoughts for Married Couples, compiled and edited by Marlene Bagnull, Christian Publications, Inc., 2003 My Turn to Care, compiled and edited by Marlene Bagnull, Ampelos Press, 1999. Repackaged by OakTara Publishers, 2012. Pathways to God: 1997 The Quiet Hour: 2003-2007 The Secret Place: 1996 and 2000 The Upper Room: 1996 Six magazine articles published in: Bible Advocate Online, July 1997 Christian Woman, November/December 1996 The Edge, Jun/Jul/Aug 1978 The Lutheran Journal, November 1995 The Wesleyan Advocate, September 1998 Woman's Touch, March/April 1996 Two flash fiction pieces published in Splickety Magazine, Fall 2012 and Fall 2013 One short story published in Guide, March 20, 1999 Columns published in: The Branch (monthly), 1973-74 Passtime (weekly) 1975-76 The View from Sierra Madre (weekly), 1972-74 Additional communications include: Press releases for author's church, 1973-74 Radio announcements and inspirational pieces for the Far East Broadcasting Company, Okinawa, Japan, 1974-6 Eight months of hosting a two-hour radio program, 1976 Memberships American Christian Fiction Writers HIS Writers, an ACFW local chapter A local critique group Denver Area Science Fiction Association Conferences ACFW Conference Colorado Christian Writers Conference MileHiCon, a science fiction convention Numerous other conferences and writing seminars Education Pasadena High School, Pasadena, California, 1969 Associate in Arts Degree, Pasadena Junior College, Pasadena, California, 1971 Achievements First Place, 2005 East Texas Writers Association Contest (young adult novel) Second Place, 2006 Inspirational Writers Alive! Contest (young adult novel) Perseverance Award, 2006 Colorado Christian Writers Conference Winner, 2007 Back Cover Blurb Contest, Words For The Journey Christian Writers Guild 3rd Place, Flash Fiction Contest, 2011, HIS Writers Personal Information Bonnie worked as secretary and bookkeeper for thirty-five years in various settings before becoming a full-time writer. She volunteers one afternoon a week at the Denver Museum of Nature and Science. Bonnie enjoys writing, reading, Sudoku puzzles, and cooking. Her husband of thirty-one years is a Mad Scientist who owns a 2,300-pound electromagnet and plays with lasers for a living. They share their home with two Siamese cats who think they own the place.