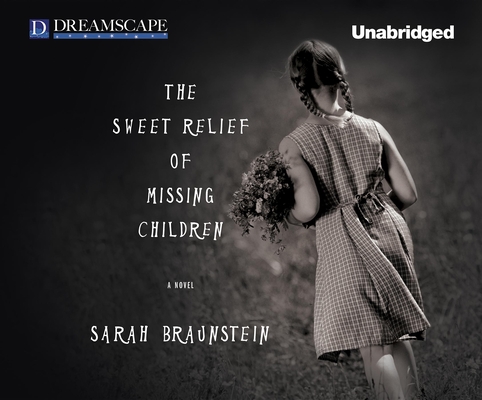 The Sweet Relief of Missing Children (Compact Disc)
Dreamscape Media, 9781611200126
Publication Date: February 28, 2011
Other Editions of This Title:
Hardcover (2/28/2011)
Paperback (2/13/2012)
* Individual store prices may vary.
Description
In New York City, a girl called Leonora vanishes without a trace. Years earlier and miles upstate, Goldie, a wild, negligent mother, searches for a man to help raise her precocious son, Paul, who later discovers that the only way to save his soul is to run away. As the narrative moves back and forth in time, we find deeper interconnections between these stories and growing clues about Leonora - this missing girl whose face looks out from telephone poles and billboards - whom one character will give anything to save.
About the Author
Sarah Braunstein is the recipient of the Rona Jaffe Writers' Award. She received her MFA from the Iowa Writers' Workshop and lives in Portland, Maine. READER BIOXe Sands has more than a decade of experience bringing stories to life through narration, performance and visual art, including recordings of Thrill of the Chase and Buttered Side Down. From poignant young adult fiction to powerful first-person narrative, Sands' characterizations are rich and expressive and her narrations evocative and intimate.
Praise For The Sweet Relief of Missing Children…
"...a beautifully written novel...Braunstein and narrator Xe Sands make the stories and relationships easy to follow. Sands's empathetic delivery makes this often disturbing work a pure joy...truly amazing." - AudioFile Magazine
"[Braunstein's] debut novel is an unsettling read that is also strangely compelling, though the author reserves all of her compassion for her characters, sparing none for her readers...Through random encounters and elliptical dialogue, Braunstein locates the pain in these people's lives and makes it shimmer." - Booklist
"[a] powerful debut...Narrator Xe Sands gives an unemotional, staccato delivery, joining forces with the author to keep listeners intrigued and disquieted. Highly recommended for those who relish unpredictable, complex literature cut from a unique mold." - Library Journal
"an unflinching probe into the frailty of children's dreams and desires...a brave and daring book...highly original and a superb work of fiction." - The Portland Press Herald
"A novel you won't want to put down. These are characters you won't want to stop rooting for." - Newcity Lit
"The reader becomes a sort of watcher peering into a variety of small-town kitchens and bedrooms, and looking hard into hearts that have been broken or shaken loose." - Bonnie Jo Campbell, author of American Salvage
"A magnificent debut filled with characters so vivid, strange, and richly imagined, you emerge feeling changed." - Sarah Shun-lien Bynum