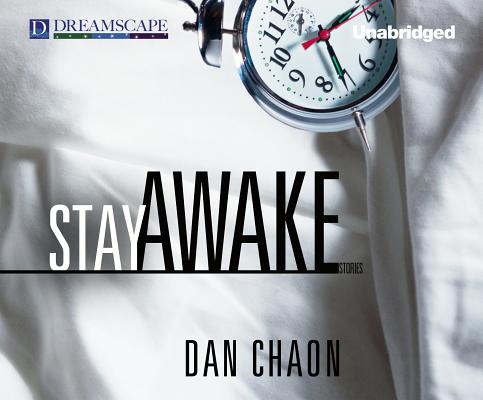 Stay Awake: Stories (MP3 CD)
Stories
Dreamscape Media, 9781611205190
Publication Date: February 7, 2012
Description
In these haunting, suspenseful stories, lost, fragile, searching characters wander between ordinary life and a psychological shadowland. They have experienced intense love or loss, grief or loneliness, displacement or disconnection - and find themselves in unexpected, dire, and sometimes unfathomable situations. A father's life is upended by his son's night terrors - and disturbing memories of the first wife and child he abandoned; a foster child receives a call from the past and begins to remember his birth mother; a divorced woman experiences her own dark version of "empty-nest syndrome." They exist in a place by the window late at night when the streets are empty and the world appears to be quiet. But you are up, unable to sleep. So you stay awake.
About the Author
Dan Chaon is the acclaimed author of Among the Missing, a finalist for the National Book Award, and You Remind Me of Me, named one of the best books of the year by The Washington Post, and Chicago Tribune, among other publications. He has been a finalist for the National Magazine Award in Fiction, and he was the recipient of the 2006 Academy Award in Literature from the American Academy of Arts and Letters.READER BIO

Kirby Heyborne has received critical acclaim for his starring role in the award-winning World War II drama Saints and Soldiers. He has had starring roles roles in eight other features and two short films, and has also appeared on the WB's Everwood and many national commercials. He has garnered rave reviews for his narration for Books on Tape over the years and is considered one of the finest narrators working today.
Praise For Stay Awake: Stories…
Starred review. "With this arresting collection, Chaon again demonstrates his mastery of the short story...brings readers fantastically close, slowly drawing them into the anxiety or loneliness or remorse of his characters, and building great anticipation for the twists to come." - Publishers Weekly
AudioFile Earphones Award Winner. "...one of those books that is more effective in audiobook form because of its first-rate narration...by Kirby Heyborne. He employs a calm, measured delivery to elicit that pleasurable queasy feeling in the pit of the stomach...the best of horror fiction...extraordinarily disturbing - in a good way!" - Audiofile Magazine
"These tales of the destructive fallout of fractured families offer a superbly disquieting demonstration of the uneasy power of horror fiction." - New York Times
"...an unflinching look at the worst kinds of human pain...Chaon has a rare gift for creating characters who are complex, unique and real, and he depicts the weight and strain of their trauma with sensitivity, authenticity and, sometimes, terror...He elucidates, flawlessly, the worst part of grief..." - NPR
"...truly unnerving...You're reading on the edge of your seat, and at the same time, you experience our universal yearning for love and connection - and the ways we're haunted - in ways you might not have considered before." - Reader's Digest, "Reader's Digest Recommends"
"...powerful and disturbing...The shocks in this collection are many, and they're as frightening and reverberant as the shock of seeing a ghostly face in your bedroom at night." - The Washington Post
"Stay Awake showcases a writer in mid-career who is not only at the top of his game, but who also refuses to settle. Chaon continues to develop, to push his work in new directions." - Fiction Writers Review
Advertisement