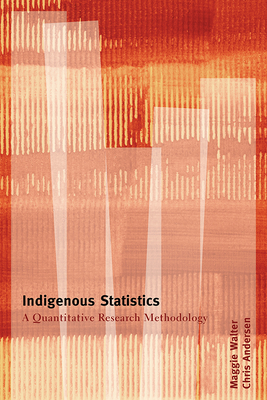 Indigenous Statistics (Paperback)
A Quantitative Research Methodology
Left Coast Press, 9781611322934, 159pp.
Publication Date: September 15, 2013
Other Editions of This Title:
Hardcover (9/15/2013)
* Individual store prices may vary.
Description
In the first book ever published on Indigenous quantitative methodologies, Maggie Walter and Chris Andersen open up a major new approach to research across the disciplines and applied fields. While qualitative methods have been rigorously critiqued and reformulated, the population statistics relied on by virtually all research on Indigenous peoples continue to be taken for granted as straightforward, transparent numbers. This book dismantles that persistent positivism with a forceful critique, then fills the void with a new paradigm for Indigenous quantitative methods, using concrete examples of research projects from First World Indigenous peoples in the United States, Australia, and Canada. Concise and accessible, it is an ideal supplementary text as well as a core component of the methodological toolkit for anyone conducting Indigenous research or using Indigenous population statistics.
About the Author
Maggie Walter is a Trawlwoolway woman of the Pymmerrairrener nation of north east Tasmania and an Associate Professor with the School of Sociology at the University of Tasmania. Her scholarship focus is inequality and race relations with Indigenous peoples at the centre of her research and she teaches and publishes across these areas. Her books include Social Inequality in Australia: Discourses, Realities and Futures (with Daphne Habibis, Oxford University Press, 2008) and Social Research Methods (2006; 2010; 2013 Oxford University Press). Maggie is co-editor (with Aileen Moreton-Robinson) of the International Journal of Critical Indigenous Studies, an elected member of the Research Advisory Council of the Australian Institute of Aboriginal and Torres Strait Islander Studies (AIATSIS), and a long term Steering Committee Group for the large-scale Australian Longitudinal Study of Indigenous Children (LSIC), Footprints in Time Study. She is also currently engaged in an on-going project embedding Indigenous research methodologies into post-graduate programs in Australian universities.Chris Andersen is Michif (Metis) and an Associate Professor in the Faculty of Native Studies at the University of Alberta. He is interested in the ways in which the Canadian nation-state has created identity categories relating to Aboriginal communities. He is a member of Statistics Canada s Advisory Committee on Social Conditions, the Office of the Federal Interlocutor for Metis and non-status Indian s Research Advisory Circle, the co-Chair of the Urban Aboriginal Strategy s Wicihitowin Research Action Circle, and editor of the journal Aboriginal Policy Studies."
Praise For Indigenous Statistics: A Quantitative Research Methodology…
"Walter and Anderson provide a fresh and critical look at the quantitative data used to describe indigenous people. Their perspective is unique insofar as it brings an indigenous understanding of the inherent limits embedded in these data. This is an exceptional work and I can think of nothing similar to it."

—C. Matthew Snipp, Burnet C. and Mildred Finley Wohlford Professor of Humanities and Sciences in the Department of Sociology and Chair of Native American Studies, Stanford University
"Indigenous Statistics is a powerful and insightful critique of how apparently 'objective' statistics are used to frame indigenous peoples as objects of demographic inquiry. More than that it offers an alternative vision for how to engage with indigenous statistics through Walter's innovative nayri kati model. Such a book is long overdue. It cannot and ought not be ignored."

—Tahu Kukutai, National Institute of Demographic and Economic Analysis / Te Runanga Tatari Tatauranga, University of Waikato
"A fascinating contribution to what is known as the decolonization paradigm in multidisciplinary fields, Indigenous Statistics encourages researchers to question the ideological practices that are routinely encoded in quantitative analyses. This ideological character of statistics as properties of the state is even more crucial for indigenous peoples, given the way such records serve to increase the subjugation of the colonized to enhance domination. The book surveys the complicity of statistics in the colonization of indigenous peoples, like those of the authors in Australia (Walter is Trawlwoolway) and Canada (Andersen is Métis). They present the epistemology, paradigm, and practice of indigenous statistics in accessible language. Sociologist Walter (Univ. of Tasmania, Australia) and Native studies professor Andersen (Univ. of Alberta, Canada) reflect what is known as the centered and critical scholar-activist paradigm with specific reference to indigenous studies, but with applicability to every discipline that takes methodology seriously. The book demonstrates that the statistical objectification of indigenous peoples is a project with global implications in societies structured in dominance. The authors challenge all researchers to consider decolonization methodologies. Summing Up: Highly recommended. Undergraduate to faculty and professional users."

—CHOICE
 "[T]his book should be required reading for those who produce quantitative data about Indigenous peoples, not least colonial state officials, for those curious about quantitative methodologies and for those who resist these as "incompatible" with diverse Indigenous worldviews….The book makes an important contribution to debates about the future of Indigenous social sciences as intimately bound up with the possibilities for Indigenous self-determination in and beyond the academy."

—Elaine Coburn, Decolonization: Indigeneity, Education and Society
or
Not Currently Available for Direct Purchase