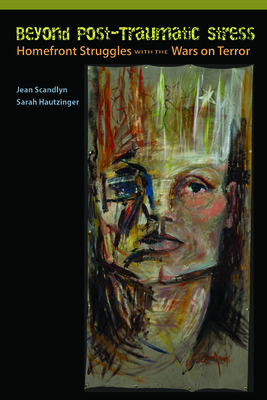 Beyond Post-Traumatic Stress
Homefront Struggles with the Wars on Terror
Paperback

* Individual store prices may vary.
Other Editions of This Title:
Hardcover (12/15/2013)
Description
When soldiers at Fort Carson were charged with a series of 14 murders, PTSD and other "invisible wounds of war" were thrown into the national spotlight. With these events as their starting point, Jean Scandlyn and Sarah Hautzinger argue for a new approach to combat stress and trauma, seeing them not just as individual medical pathologies but as fundamentally collective cultural phenomena. Their deep ethnographic research, including unusual access to affected soldiers at Fort Carson, also engaged an extended labyrinth of friends, family, communities, military culture, social services, bureaucracies, the media, and many other layers of society. Through this profound and moving book, they insist that invisible combat injuries are a social challenge demanding collective reconciliation with the post-9/11 wars.
Praise For Beyond Post-Traumatic Stress: Homefront Struggles with the Wars on Terror…
"This is such a valuable book. Scandlyn and Hautzinger show us why the US military at first denied PTSD's almost epidemic proportions and then embraced it to the exclusion of other post-war health costs. They also enable us to listen to women as veterans' wives and to townspeople protesting military base expansion. So much here will stick with me."

—Cynthia Enloe, Clark University; author of Nimo's War, Emma's War: Making Feminist Sense of the Iraq War


"For decades now, and since the beginning of the wars in Iraq and Afghanistan in particular, one single term—posttraumatic stress disorder—has been given the massive task of describing the complex impacts of war on military servicemembers and the people who share their lives. But as Hautzinger and Scandlyn show, in narratives rendered with both care and urgency, those impacts often overspill the neat boundaries of mental illness, medical diagnosis, and acronyms that roll off the tongue. This book lets us know just how much is at stake for soldiers, veterans, military families, and civilians alike in the language, stories and categories we use to make sense of war."

—Kenneth T. MacLeish, Vanderbilt University, author of Making War at Fort Hood: Life and Uncertainty in a Military Community

"In this readable and engaging book, Scandlyn and Hautzinger use rich ethnography to push beyond a narrowly defined focus on PTSD and raise thoughtful questions about the needs of post-9/11 service members and their families and communities. The authors illuminate the complex impacts of war for a small city far away from the conflicts but central to the American war effort. It is common to talk about the "ripple effects" of war--how its moral, spiritual, psychological, political and economic consequences spread far beyond those most directly involved--but rare to provide such a careful and scholarly look at how that diffusion occurs. Hautzinger and Scandlyn have written an essential book for anyone seeking to better understand the true impact of the post-9/11 wars for American service members and society."

—Erin Finley, University of Texas Health Science Center at San Antonio


"In this book, Hautzinger and Scandlyn lift off layers of cultural practice--social rank, stigma, and studied silence--that inhibit individual and collective healing from war's injuries when American soldiers come home from Iraq and Afghanistan. At the same time, their carefully researched ethnographic account of the Fort Carson and Colorado Springs communities serves to prod public discourse into the essential but uncomfortable questions of what all of us actually pay in exchange for war and the pursuit of a narrowly defined 'security.'"

—Monica Schoch-Spana, Senior Associate, University of Pittsburgh Medical Center, Center for Health Security

"Anthropologists Hautziner (Colorado College) and Scandlyn (Univ. of Colorado, Denver) offer an important, well-written, and thoroughly research work regarding the culture of returning soldiers. The emphasis is on post-9/11, specifically focused on PTSD. ... The major dichotomy is between PTSD (a mental condition, the legitimacy often challenged by fellow soldiers) and traumatic brain injury (physical and observable). Reentry involved counseling (military and civilian) and town hall meetings, among other efforts. The authors do not answer questions, but stimulate many. A profound work and must-read for scholars interested in the military. Summing Up: Essential."

—J. Stanley, emeritus, Towson University
Left Coast Press, 9781611323665, 318pp.
Publication Date: December 15, 2013
About the Author
Sarah Hautzinger earned her doctorate in anthropology at the Johns Hopkins University, and is associate professor of anthropology at Colorado College. A socio-cultural anthropologist, Hautzinger's research emphasizes the institutional processes related to interpersonal, state and transnational levels of violent conflict. She has published Violence in the City of Women: Police and Batterers in Bahia, Brazil (California, 2007) about the creation of all-women police stations in a newly democratizing Brazil, and in addition to her work on the Post-9/11 wars with Jean Scandlyn, she has published on tourist economies, research methods, and international community-based learning.

Jean Scandlyn worked as a registered nurse in a variety of clinical settings prior to earning her doctorate in anthropology at Columbia University. She is currently a research associate professor of health and behavioral sciences and anthropology at the University of Colorado Denver. A medical anthropologist, Scandlyn's research focuses on the transition from adolescence to adulthood, health care delivery to underserved populations, and global health. Along with her research work on the post-9/11 wars with Sarah Hautzinger, she has published on conflicts over spending for public education, homeless and runaway youth, child labor, ethnographic field schools and teaching qualitative research methods.
or
Not Currently Available for Direct Purchase