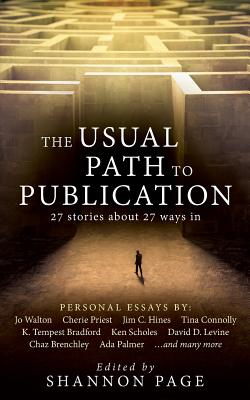 The Usual Path to Publication
27 Stories About 27 Ways In
Paperback

* Individual store prices may vary.
Description
THE USUAL PATH TO PUBLICATION 27 stories about 27 ways in Edited by Shannon Page It looks straightforward from the outside, doesn't it? Write an amazing book, get an agent, get a book deal, and voila Fame and fortune As you will see in these essays, however, a writer is vastly more likely to follow a complex, switch-backing trail than a straightforward path, one strewn with the boulders of rejection letters, the quicksand of endless revisions, and the snake pits of publishing house reorganizations, business failures, and would-be scammers. To the right is the sheer cliff of despair; to the left, the impassible mountain of the slush pile. Fear not, brave writer There is a destination at the end of that journey. Here are twenty-seven tales to inspire and encourage you-if they don't send you off to a more accessible pursuit, like lion-taming or rocket science or spinning straw into gold. Personal Essays by Jo Walton, Cherie Priest, Jim C. Hines, Tina Connolly, Ken Scholes, Katharine Kerr, David D. Levine, K. Tempest Bradford, Ada Palmer, Trisha Leigh/Lyla Payne, Alma Alexander, Laura Anne Gilman, Chaz Brenchley, Randy Henderson, Nancy Jane Moore, Jennifer Brozek, Rhiannon Held, Chris Dolley, Brenda Cooper, Elizabeth Bourne, John A. Pitts, Mindy Klasky, Amy Sterling Casil, Deborah J. Ross, Phyllis Irene Radford, Sara Stamey, and Mark Teppo.
Book View Cafe, 9781611386028, 152pp.
Publication Date: May 17, 2016
About the Author
Shannon Page was born on Halloween night and spent her early years on a back-to-the-land commune in northern California. A childhood without television gave her a great love of the written word. At seven, she wrote her first book, an illustrated adventure starring her cat Cleo. Sadly, that story is out of print, but her work has appeared in Clarkesworld, Interzone, Fantasy, Black Static, Tor.com, the Proceedings of the 2002 International Oral History Association Congress, and many anthologies, including the Australian Shadows Award-winning Grants Pass, and The Mammoth Book of Dieselpunk. Books include Eel River; the collection Eastlick and Other Stories; and Our Lady of the Islands, co-written with the late Jay Lake. Our Lady received starred reviews from Publishers Weekly and Library Journal, was named one of Publishers Weekly's Best Books of 2014, and was a finalist for the Endeavour Award. Forthcoming books include The Queen and The Tower, first book in The Nightcraft Series; a sequel to Our Lady; and, writing with Karen G. Berry as Laura Gayle, Orcas Intrigue, the first book in the Chameleon Chronicles. Edited books include the anthology Witches, Stitches & Bitches, from Evil Girlfriend Media; several well-received novels from Per Aspera Press; and the essay collection The Usual Path to Publication. Shannon is a longtime yoga practitioner, has no tattoos, and is an avid gardener at home with her husband, Mark Ferrari, in Portland, Oregon. She has a tiny office made from a toolshed in the back yard, where all the magic happens. Visit her at www.shannonpage.net.