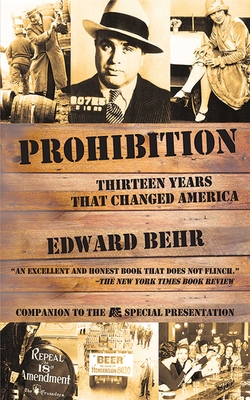 Prohibition
Thirteen Years That Changed America
Paperback

* Individual store prices may vary.
Other Editions of This Title:
Paperback (6/1/2007)
Hardcover (1/1/1996)
Description
"A excellent and honest book that does not flinch at unpalatable facts."—The New York Times Book Review

From the bestselling author of The Last Emperor comes this rip-roaring history of the government's attempt to end America's love affair with liquor—which failed miserably. On January 16, 1920, America went dry. For the next thirteen years, the Eighteenth Amendment prohibited the making, selling, or transportation of "intoxicating liquors," heralding a new era of crime and corruption on all levels of society. Instead of eliminating alcohol, Prohibition spurred more drinking than ever before.

Formerly law-abiding citizens brewed moonshine, became rum- runners, and frequented speakeasies. Druggists, who could dispense "medicinal quantities" of alcohol, found their customer base exploding overnight. So many people from all walks of life defied the ban that Will Rogers famously quipped, "Prohibition is better than no liquor at all." Here is the full, rollicking story of those tumultuous days, from the flappers of the Jazz Age and the "beautiful and the damned" who drank their lives away in smoky speakeasies to bootlegging gangsters—Pretty Boy Floyd, Bonnie and Clyde, Al Capone—and the notorious St. Valentine's Day Massacre. Edward Behr paints a portrait of an era that changed the country forever.
Praise For Prohibition: Thirteen Years That Changed America…
"This is an excellent and honest book that does not flinch at unpalatable facts."—The New York Times Book Review

"Behr masterfully integrates family tales and expert interviews into his account of bootlegging, speakeasies, gangsterism, and racketeering."—Library Journal

"[Behr] gives more than the usual gangsters-and-gats treatment of the era, showing how great social movements and forces converged and competed for the country's soul. Finally, he spells out prohibition's lasting effects memorably, in the process increasing understanding of American culture then and now."—Booklist

"Informative and entertaining from start to finish."—Publishers Weekly

"Prohibition is an era usually covered in a general treatise on American history: choose this title to receive much more depth and detail than most; especially if it's report facts which are needed for a school paper. Original research contributes to an in-depth survey of the origins, politics, and individuals involved in the Prohibition era's events."—Midwest Book Review
Arcade, 9781611450095, 288pp.
Publication Date: May 1, 2011
About the Author
Edward Behr was a writer, documentary filmmaker, and contributing editor of Newsweek. His books include The Algerian Problem; Anybody Here Been Raped and Speaks English?; Getting Even, a novel; the international bestseller The Last Emperor, based on the Bertolucci film; The Story of Miss Saigon, cowritten with Mark Steyn; and Hirohito: Behind the Myth. He died in Paris in 2007.
or
Not Currently Available for Direct Purchase