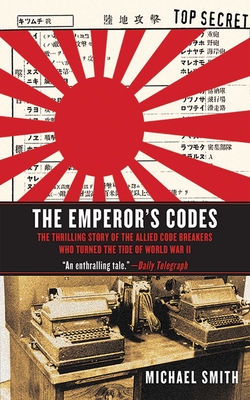 The Emperor's Codes
The Thrilling Story of the Allied Code Breakers Who Turned the Tide of World War II
Paperback

* Individual store prices may vary.
Description
In this gripping, previously untold story from World War II, Michael Smith examines how code breakers cracked Japan's secret codes and won the war in the Pacific. He also takes the reader step by step through the process, explaining exactly how the code breakers went about their daunting task—made even more difficult by the vast linguistic differences between Japanese and English.

The Emperor's Codes moves across the world from Bletchley Park to Pearl Harbor, from Singapore to Colombo, and from Mombasa to Melbourne. It tells the stories of John Tiltman, the British soldier turned code breaker who made many of the early breaks in Japanese diplomatic and military codes; Commander Joe Rochedort, the leading expert on Japanese in U.S. naval intelligence; Eric Nave, the Australian sailor who pioneered breakthroughs in deciphering Japanese naval codes; and Oshima Hiroshi, the hard-drinking Japanese ambassador to Berlin whose candid, often verbose reports to Tokyo of his conversations with Hitler and other high-ranking Nazis were a major source of intelligence in the war against Germany. Without the dedication demonstrated by these relatively unsung heroes, the outcome of World War II might have been very different.
Arcade, 9781611450170, 368pp.
Publication Date: August 1, 2011
About the Author
Michael Smith spent a decade in British intelligence before becoming a journalist, first with the BBC and then with  the Daily Telegraph and Sunday Times. Smith is the author of numerous books on espionage, including the number one UK bestseller Station X: The Secrets of Bletchley Park, the US bestseller Killer Elite, The Emperor's Codes, published by Arcade, and Foley: The Spy Who Saved 10,000 Jews, which led to the recognition of former MI6 officer Frank Foley as Righteous Among Nations. Smith is a Visiting Fellow at Kellogg College Oxford and a member of the Historical Advisory Group of the Bletchley Park Trust. He lives in Oxfordshire in England.
or
Not Currently Available for Direct Purchase