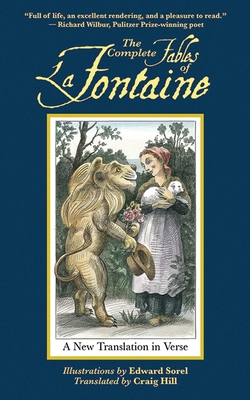 The Complete Fables of La Fontaine (Hardcover)
A New Translation in Verse (Arcade Classics)
Arcade, 9781611453447, 400pp.
Publication Date: November 1, 2011
* Individual store prices may vary.
Description
In this wonderful, vigorously contemporary translation, Craig Hill has captured the liveliness, satiric wit, and poetic beauty that made Jean de la Fontaine famous during his lifetime and his Fables celebrated as a masterwork of world literature ever since. Despite la Fontaine's deceptively modest claim that all he intended was to put the moral tales of Aesop and other ancient fabulists into poetry for the pleasure of Louis XIV's young son, his real accomplishment, as later generations have understood, was holding a mirror up to the society of his day and, in the process, fashioning a work that has become a classic.

Borrowing from a variety of sources, la Fontaine gave the hitherto mute animals in ancient fables the power of speech. Backstabbing politicians, brainless nincompoops, charlatans, clueless heads of state, egomaniacs, empty-headed celebrities, foolish investors, gluttons, liars, penny–pinchers, self-important blowhards, and wastrels—these are the targets of la Fontaine's pen. In this beautifully bound collector's edition, Craig Hill has given us a rare treat: both the irreverent spirit and the vivid poetry that have made la Fontaine's fables beloved through the ages, continuing to amuse and inspire centuries after they ?rst appeared in print.