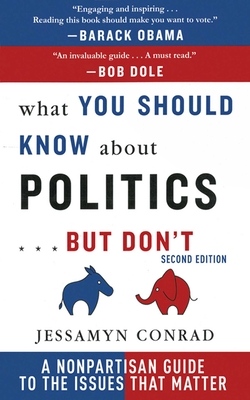 What You Should Know About Politics . . . But Don't
A Non-Partisan Guide to the Issues That Matter
Paperback

* Individual store prices may vary.
Description
Now in its second edition, here is one of the first and only issue-based nonpartisan guides to contemporary American politics. It's a very exciting time in American politics. Voter turnout in primaries and caucuses across the nation has shattered old records. More than ever, in this election year people are paying attention to the issues. But in a world of sound bites and deliberate misinformation and a political scene that is literally colored by a partisan divide—blue vs. red—how does the average educated American find a reliable source that's free of political spin? 
What You Should Know About Politics . . . But Don't breaks it all down, issue by issue, explaining who stands for what, and why, whether it's the economy, the war in Iraq, health care, oil and renewable energy sources, or climate change. If you're a Democrat, a Republican, or somewhere in between, it's the perfect book to brush up on a single topic or read through to get a deeper understanding of the often mucky world of American politics.
Arcade, 9781611454758, 400pp.
Publication Date: July 15, 2012
or
Not Currently Available for Direct Purchase