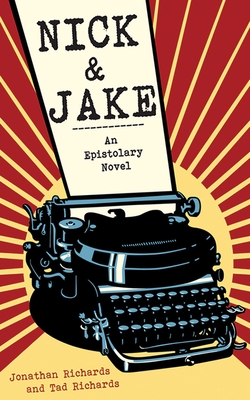 Nick and Jake (Hardcover)
An Epistolary Novel
Arcade, 9781611457230, 304pp.
Publication Date: September 1, 2012
Other Editions of This Title:
Paperback (3/4/2014)
* Individual store prices may vary.
Description
America in 1953 seems hell-bent on squandering the flood tide of international goodwill earned in WWII. Senator Joe McCarthy is on a red-hunting rampage in Washington, and the fledgling CIA under Allen Dulles is starting to dabble in nation-building.  

Into this moment of history wander Nick Carraway and Jake Barnes, refugees from Fitzgerald's The Great Gatsby and Hemingway's The Sun Also Rises. They begin a correspondence that leads to a close friendship, and widens to include a bizarre cast of characters. From the classic fiction of the period come Larry Darrell (The Razor's Edge), Alden Pyle (The Quiet American), Lady Brett Ashley and Robert Cohn (The Sun Also Rises), and from real life, Roy Cohn (Robert's nephew) and his pal Davey Schine, Roy's boss Joe McCarthy, the Dulles brothers, the Weavers, French intellectuals Sartre and De Beauvoir, Iranian premier Dr. Mohammed Mossadegh, novelist Jackie Susann, music moguls Jerry Wexler and Ahmed Ertegun, and sex-change pioneer Christine Jorgensen. Jake discovers a CIA plot to cause a coup in France, and Nick and Jake must do their best to save their country from itself while affairs of the heart change both of their lives and teach them lessons about life and love. Nick & Jake finds the uproarious comic potential in a chilling period of American history that has alarming echoes in our own.
or
Not Currently Available for Direct Purchase