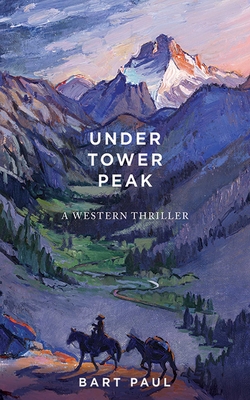 Under Tower Peak
A Tommy Smith High Country Noir, Book One
Hardcover

* Individual store prices may vary.
Other Editions of This Title:
Paperback (11/11/2014)
Description
After two tours as a sniper in Iraq, Tommy Smith has returned to his former life as a cowboy and wilderness guide in California's Sierra Nevada, hoping to reclaim the simplicity of his youth and heal the wounds the world can't see. When, high on a mountain pass, he and his partner find the wrecked plane of a billionaire adventurer who disappeared months earlier, a seemingly innocent act triggers a breathtaking cycle of violence that threatens Tommy's world. Soon he is enmeshed in the struggle between the billionaire's trophy wife and wannabe drug lord son and their allies. Every effort to set things right draws him deeper into a bad situation and closer to needing those deadly skills that he had hoped to leave behind forever.

With lean, efficient prose and dialogue that crackles with repartee, Bart Paul has written a contemporary thriller of steadily mounting suspense and ruthless action. He captures both the beauty of the high mountain wilderness and the laconic rhythms of the outfitters' lives. In Tommy Smith he offers a protagonist whose cool competence, home-grown decency, and clarity of purpose in the face of danger suggest a brotherhood with heroes from the likes of Ernest Hemingway and Cormac McCarthy.
 
Praise For Under Tower Peak: A Tommy Smith High Country Noir, Book One…
"Fans of James Lee Burke and Craig Johnson should take note. . . . A  winning series that's worth saddling up and taking the ride."—Criminal Element
"Wild-country noir with gripping, compelling action." —Kirkus Reviews
"Tommy Smith is right up there with James Lee Burke's Dave Robicheaux."—Howard Frank Mosher
"A western hero that's part John Wayne and part James Bond."—Dan O'Brian

Praise for Under Tower Peak
Named One of the 10 Best Mysteries of the Year by the Wall Street Journal

"A scenic, suspenseful debut novel turns out to be one of the best of the season. . . . Bart Paul's debut novel displays some formidable influences—Hemingway, for instance . . . Shadows of Cormac McCarthy and Jim Harrison also flutter across the pages of this swift-moving tale. . . . The nonstop action in Under Tower Peak is well-paced, the plot twists surprising (even shocking), and the occasional humor welcome. . . . A must-read." —Wall Street Journal

"Under Tower Peak has everything I look for in a thriller—big characters, big action, sharp dialogue, and the magic of place. Bart Paul brings the California mountains to life through Iraqi war sniper Tommy Smith, a tough soul who would like to forget that war and get on with his life in the great outdoors. This book is engaging as a firefight and haunting as a campfire story." —T. Jefferson Parker, author of The Famous and the Dead and The Jaguar

"A superb contemporary western thriller. Paul's Tommy Smith is right up there with James Lee Burke's Dave Robichaux. . . . Bart Paul knows his High Sierra country inside out. Under Tower Peak is a beautifully-written, searingly honest literary thriller by a first-rate storyteller and outdoorsman."
—Howard Frank Mosher, author of Walking to Gatlinburg

"A great Western thriller. Bart Paul knows how to keep things interesting, and his attention to detail is pitch-perfect—from how to pack a horse to the relationship between two modern-day cowboys. In Tommy Smith, he has created a Western hero that is part John Wayne and part James Bond. Under Tower Peak is a hard book to put down." —Dan O'Brien, author of Stolen Horses and Buffalo for the Broken Heart

"Paul writes with spare, clean, hard-driving prose that skates along morality's knife-edge—writing reminiscent of Cormac McCarthy and James Lee Burke—all the while layered with lush, keenly observed descriptions of the natural world and man's place in it. Wild-country noir with gripping, compelling action." —Kirkus Reviews

"A superior blend of thriller and contemporary western, full of gun lore and with a fine appreciation of the Sierra Nevada wilderness. And Paul's spare, reflective style recalls Hemingway." —Booklist, starred review
Arcade, 9781611458367, 288pp.
Publication Date: April 1, 2013
About the Author
Bart Paul is the author of TV documentaries, short stories, the biography Double-Edged Sword: The Many Lives of Hemingway's Friend, the American Matador Sidney Franklin, and the novels in his Tommy Smith High Country Noir series, including Under Tower Peak, Cheatgrass, and See That My Grave Is Kept Clean..Throughout his school years, he spent summers working on cattle ranches and pack outfits in California's Eastern Sierra. After living in Southern California for many years, he now divides his time between Bridgeport, California, near Yosemite, and Smith Valley, Nevada—the ranching country of his novels.