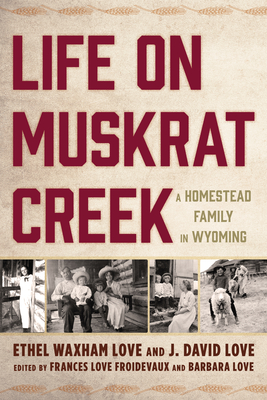 Life on Muskrat Creek (Hardcover)
A Homestead Family in Wyoming
Lehigh University Press, 9781611462647, 288pp.
Publication Date: February 23, 2018
* Individual store prices may vary.
Description
Written by Ethel Waxham Love, a Wellesley College graduate who went to Wyoming in 1905 as a teacher in a one-room schoolhouse, and her son, J. David Love, who later became an eminent geologist, Life on Muskrat Creek tells the fascinating story of a family's day-to-day life on an isolated ranch in early twentieth-century Wyoming. Readers will be held in suspense as they learn about the family's battle with a variety of challenges, including a near-fatal bout with Spanish influenza, life-threatening encounters with livestock and wildlife, and disastrous episodes of fires, flooding, blizzards, and drought. The book's depiction of more ordinary events is equally engaging; Ethel describes becoming a wife and raising children without the support of neighbors, women friends, or a wider family network, and David recounts growing up in a wild and remote place where there was no local school to attend. Readers from all walks of life will find Life on Muskrat Creek to be a lively and provocative book.
About the Author
Frances Love Froidevaux (1942-2011) taught French and ESL and founded the Bartlesville, OK, school system's first foreign language program. Barbara Love has worked as an archaeologist, ESL and English professor, and freelance editor.