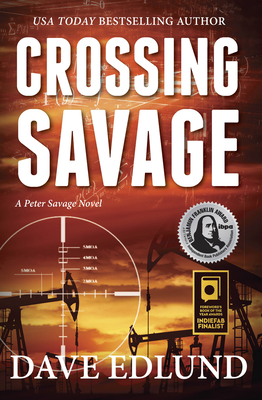 Crossing Savage (Paperback)
A Peter Savage Novel
Light Messages Publishing, 9781611530780, 440pp.
Publication Date: March 26, 2014
* Individual store prices may vary.
Description
In this edge-of-your-seat thriller, author Dave Edlund brings readers face to face with the promise of energy independence... and its true cost. As one by one the world's leading alternative energy researchers are assassinated, Peter Savage and his friend Jim Nicolaou race against the clock to preserve the secret that promises to change the landscape of the world... or start a global war. In the timely, heart-thumping thriller Crossing Savage, author Dave Edlund presents the theory of abiogenic oil production and the terrifying array of unintended consequences that accompany the belief that energy independence can be realized.
About the Author
Dave Edlund is the USA Today bestselling author of the award-winning Peter Savage series and a graduate of the University of Oregon with a doctoral degree in chemistry. He resides in Bend, Oregon, with his wife, son, and four dogs (Lucy Liu, Murphy, Tenshi, and Diesel). Raised in the California Central Valley, he completed his undergraduate studies at California State University Sacramento. In addition to authoring several technical articles and books on alternative energy, he is an inventor on 97 U.S. patents. An avid outdoorsman and shooter, Edlund has hunted North America for big game ranging from wild boar to moose to bear. He has traveled extensively throughout China, Japan, Europe, and North America.
Praise For Crossing Savage: A Peter Savage Novel…
"Though it is difficult to believe this extraordinarily well conceived and written novel is a debut fiction, Edlund does manage to provide enough `real science' with the mystery/thriller/suspense genre that places his far above the authors who create make-believe `science' to insert into their fantasies . . . move over Carl Sagan, Stephen King, Lee Child! Highly recommended."  —Grady Harp, Amazon Vine Voice Reviewer

"Author, Dave Edlund, has created a compelling, five-star novel filled with intrigue and mystery. The story keeps you on the edge of your seat anticipating the laws of 'unintended consequences'. . ."  —Pacific Book Review

"The book is fast-paced and lively, reminiscent of a Tom Clancy thriller, with locations and action taking place all over the globe."  —The US Review of Books

or
Not Currently Available for Direct Purchase