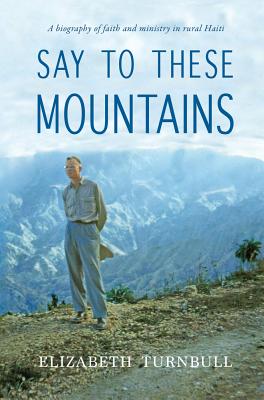 Say to These Mountains
A biography of faith and ministry in rural Haiti
Paperback

* Individual store prices may vary.
Description
Through the true story of Wallace Turnbull, one of Haiti's pioneers in development and missions, Say To These Mountains takes readers on a journey where grace and beauty shine into even the tightest crevices of brokenness, poverty, and loss.
Over the course of 70 years, Wallace's work changed countless lives and influenced national policy in both Haiti and the United States. For his contributions, he was decorated with the National Order of Honor and Merit, Haiti's highest honor.
As told by Wallace's granddaughter, this eloquent biography reveals the life of a complex man and his adopted country, painting a picture of hope and mercy vastly different from the often-grim stories shared about the island nation and her people.
"How many children, how many elderly, how many generations were touched—how many survived—because of the work the Pastor has done?" –President Michel Martelly of Haiti during the bestowing of the Order of Honor and Merit to Wallace Turnbull
Praise For Say to These Mountains: A biography of faith and ministry in rural Haiti…
"Pastor Wallace was a controversial figure, and in this personal narrative/biography, his granddaughter opens up a window onto his fascinating, turbulent life in Haiti, as well as a close-up addendum to the history of missionary work and its ties to the crisis of development there." —Amy Willentz, author of The Rainy Season: Haiti Since Duvalier and Farewell, Fred Voodoo: A Letter From Haiti
Light Messages Publishing, 9781611532296, 286pp.
Publication Date: October 17, 2017
About the Author
Elizabeth Turnbull was born and raised in Haiti where she grew up surrounded by the people and landscapes of Say to These Mountains.
After graduating from Quisqueya Christian School, in Port-au-Prince, Elizabeth went on to study Spanish and Journalism at Wake Forest University and received her MA in Latin American and Caribbean Studies from Florida International University.
As a "Third Culture Kid," she sees herself as living between two worlds, never fully belonging to one or the other. She's spent a lifetime trying to reconcile those worlds, to help both sides understand one another. Writing, she believes, is the best tool she has for that.
Today, Elizabeth is the Senior Editor for Light Messages Publishing where she is immensely grateful to immerse herself in new stories every day. She is also the author of two children's books: Janjak and Freda Go to the Iron Market and Bonnwit Kabrit.
Elizabeth lives on a budding farm in Hillsborough, NC, with her husband Roberto Copa Matos. Connect with her online at lightmessages.com/elizabeth-turnbull. Follow her on Twitter, Instagram, and Pinterest @ejturnbull and on Facebook at elizabethjturnbull.
or
Not Currently Available for Direct Purchase