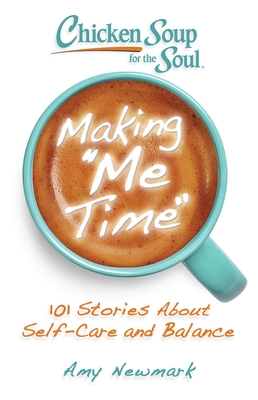 Chicken Soup for the Soul
Making Me Time: 101 Stories About Self-Care and Balance
Paperback

* Individual store prices may vary.
Description
"Me time" is the cure for what ails you. You know you need it. Here's how to take care of yourself so that you can be the very best version of you!
Do you ever say that you'll take care of yourself after you finish your to-do list? The personal, revealing stories in this book will convince you to put yourself at the top of that list. Self-care and life balance are what we all neglect most.
These 101 true stories from people who turned their lives around will show you how to take care of your physical and mental health. You'll be inspired by people who have taken back control of their lives and carved out that all-important "me time," whether that means exercising, reading, meditating, seeing friends, or communing with nature.
Whatever your psyche needs is your form of "me time" and that's something that you deserve. There are many approaches, and at least one of them is bound to work for you. In these pages, you'll read about men and women who:
Put an hour for themselves on their daily to-do lists
Pursued long-delayed sports, hobbies, or volunteer work
Discovered themselves through travel, fitness, or new careers
Learned to ask for help instead of doing it all
Started treating themselves as well as they would treat a guest
Stopped seeing the people who weren't making them happy
Rediscovered the benefits of exercising and being outside in nature
Created their own personal spaces in their homes or outdoors
Decluttered their calendars or their homes—and felt liberated
Chicken Soup for the Soul, 9781611590746, 368pp.
Publication Date: February 16, 2021
About the Author
Amy Newmark is author, editor-in-chief, and publisher of the Chicken Soup for the Soul book series.