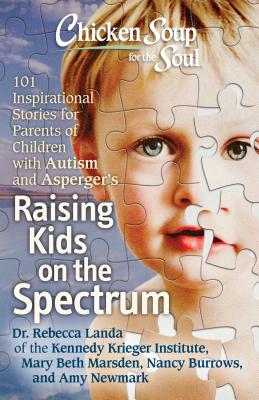 Chicken Soup for the Soul (Paperback)
Raising Kids on the Spectrum: 101 Inspirational Stories for Parents of Children with Autism and Asperger's
Chicken Soup for the Soul, 9781611599084, 400pp.
Publication Date: April 2, 2013
* Individual store prices may vary.
Description
With its 101 stories from other parents and experts, this book will comfort, encourage, and uplift parents of children with autism and Asperger's.

If you are the parent of a child – from newborn to college age – with autism or Asperger's, you will find support, advice, and insight in these 101 stories from other parents and experts. Stories cover everything from the serious side and the challenges, to the lighter side and the positives, of having a special child on the autism spectrum.
About the Author
Rebecca Landa, PhD, is the founder and director of the Center for Autism and Related Disorders and the REACH research program at Kennedy Krieger Institute. She is also a professor of psychiatry at the Johns Hopkins University School of Medicine.
Mary Beth Marsden is a longtime Baltimore newscaster and founder/executive producer of the video resource website Real Look Autism.
Nancy Burrows is an experienced print and television writer and producer, and contributor to Real Look Autism video resource website.