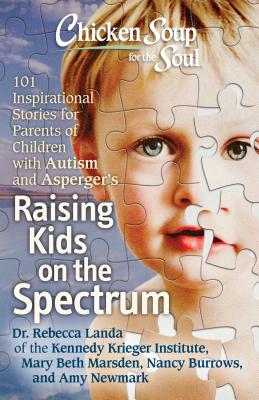 Chicken Soup for the Soul
Raising Kids on the Spectrum: 101 Inspirational Stories for Parents of Children with Autism and Asperger's
Paperback

* Individual store prices may vary.
Description
This collection of 101 stories is a portable support group for families with children on the spectrum — with inspirational stories, useful tips, and solid advice from other parents!

When your child is diagnosed with an autism spectrum disorder, your life changes and you embark on a voyage that is all-consuming. Whether your child has autism or Asperger's, to use the old terms, or has ASD, to use the new one, you develop a vocabulary filled with acronyms, therapies, and theories.

Dr. Rebecca Landa of the world-renowned Kennedy Krieger Institute brings you up to date in her introduction to this special collection from Chicken Soup for the Soul. These revealing, personal stories will inspire you, educate you, make you laugh, and make you cry as you share in the experiences of other parents and caregivers in the ASD community.
Chicken Soup for the Soul, 9781611599084, 400pp.
Publication Date: April 2, 2013
About the Author
Rebecca Landa, PhD, is the founder and director of the Center for Autism and Related Disorders and the REACH research program at Kennedy Krieger Institute. She is also a professor of psychiatry at the Johns Hopkins University School of Medicine.
Mary Beth Marsden is a longtime Baltimore newscaster and founder/executive producer of the video resource website Real Look Autism.
Nancy Burrows is an experienced print and television writer and producer, and contributor to Real Look Autism video resource website.