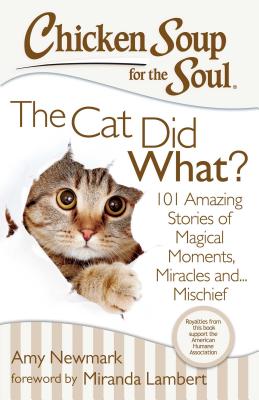 Chicken Soup for the Soul (Paperback)
The Cat Did What?: 101 Amazing Stories of Magical Moments, Miracles and... Mischief
Chicken Soup for the Soul, 9781611599367, 384pp.
Publication Date: August 19, 2014
* Individual store prices may vary.
Description
Our cats make us smile every day with their crazy antics and acts of love. This book is full of hilarious and heartwarming stories about our feline friends that surprise us and charm us.

Chicken Soup for the Soul: The Cat Did What? will have you saying just that, as you read these 101 amazing stories about the absurdities, mischief, miracles, and magic our cats bring to our lives. Whether humorous or serious, or both, these stories will make you laugh and warm your heart.
About the Author
Amy Newmark is publisher and editor-in-chief of Chicken Soup for the Soul. Grammy Award-winning country music star Miranda Lambert co-founded nonprofit MuttNation Foundation that works to help pets in need.